Pudu Robotics (or "Pudu Technology"), a Chinese enterprise of food delivery robots, has been recently reported making major layoffs.
"We've decided to cut businesses and headcount of our company to survive. It's a difficult decision," wrote Zhang Tao, founder and CEO of Pudu Robotics, in a leaked email to Pudu employees on July 4th.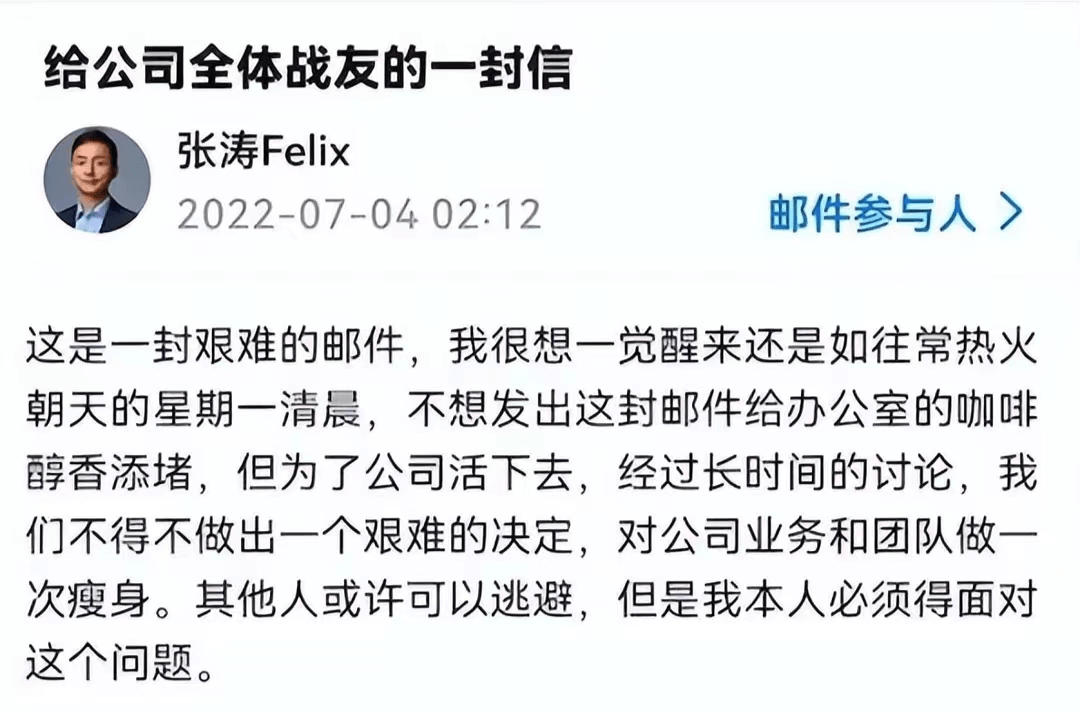 (The leaked email to Pudu employees sent by Zhang Tao)
In fact, this is the second large-scale layoffs Pudu has made since the beginning of this year. In the first round that took place a few months ago, 1/3 of its workforce was cut. But the headcount reduction did not save the company from its crises. In less than half a year, the Pudu management had to make another major layoffs. This time, the functions most affected, as revealed by the dismissed employees, are R&D, Manufacturing and Service.
Perhaps no one of the company would ever expect such a rapid deterioration of business. In September 2021, Pudu Robotics celebrated completion of its C2 financing, securing a copious funding of 1 billion CNY.  However, in less than 1 year, the company was caught up in a series of troubles that led to its mass layoffs. What's wrong with Pudu?
Serious Cash Crunch
Pudu Robotics has been facing a cash crunch since the end of 2021, which was admitted by the CEO in a live streaming conference at the end of last year, stating that the company "could hardly make ends meet". According to industry forecasts, if Pudu is unable to find new financial support, the company will last for no more than 3 months before going bankrupt. Based on multiple sources, the CEO's strategic mistakes and unethical behaviors have lost him the faith and trust from the investors. The prospect of Pudu Robotics is gloomy in the capital market.
As revealed by its former employees on a variety of social networking platforms, Pudu Robotics was unable to compensate the dismissed employees in accordance with Chinese labor laws. Many were laid off without being properly compensated and had to resort to labor arbitration.
Information from the industry supply chains disclosed that since the beginning of 2022, Pudu's order quantity and payment have been "dismally small". It has been owing the suppliers a lot of money and unable to make payments, which caused the turbulence and malfunction of its manufacturing capability. Pudu's supply chain is therefore on verge of collapse, and it has been caught up in disputes with the suppliers for the payment issues.
Under such circumstances, the Pudu management team decided to carry out a large-scale work stoppage.  "In order to save operating costs and improve productivity…we will arrange work stoppage for some of our colleagues… The list of employees for work stoppage, payments during the period and the time for work resumption will be notified separately. Since there is no need to carry out work during the work stoppage, the corresponding system permissions (of work accounts) will be temporarily closed, and will be restored after the resumption of work." Stated in a leaked email from Pudu's HR team to the staff.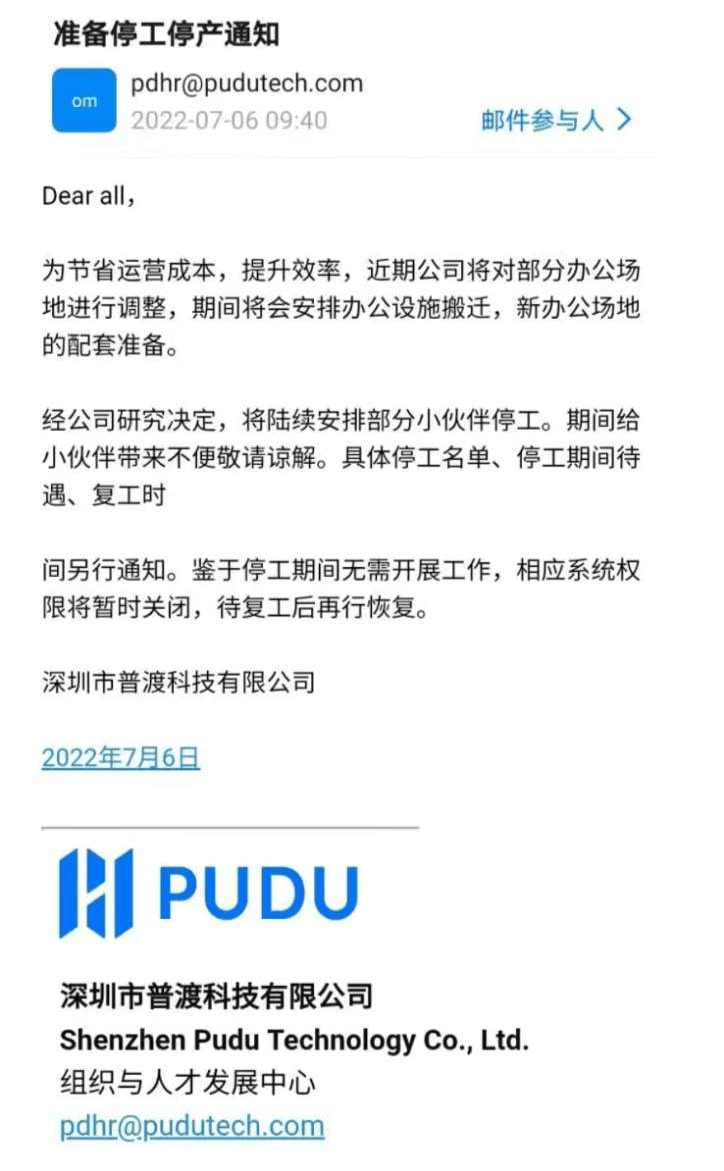 (The leaked email of Pudu's work stoppage notice)
Toxic Business Model
Industry experts pointed out that Pudu Robotics has never worked out a reliable business model to guarantee profit and sustainable development.
A former sales leader of Pudu Robotics revealed that there was an unhealthy ethos inside Pudu where the sales team only pursued quick success and instant benefit. Reports show that Pudu utilized down payment to increase its contract amount. That is to say, if a distributor is unable to pay a contract at once, Pudu would suggest a down payment of 10%-20%. According to the former sales leader, Pudu had coaxed distributors into stocking excessive inventory by means of down payments, but never provided any help for sell-out.
Many distributors held grudges against this unethical business practice of Pudu Robotics. According to one of its distributors, they were going through hard times liquidating the old and surplus inventory, and some distributors even went bankrupt because of this.  In South Korea, which is Pudu's first and most successful overseas market, an information source close to the Pudu's local distributor revealed that the inventory of the Korean distributor has exceeded 1,000 units. The distributor stated that it would take them more than 1.5 years to complete the sell-out based on the current sales velocity. Notwithstanding, Pudu's sales team is still pushing the distributor to place more orders.
Pudu's reckless pricing scheme is another problem, as revealed by the former sales leader. For instance, the sell-in price of BellaBot, Pudu's flagship model of food delivery robot, is 6,000 USD for the European market, but the price is only 3,000 USD in some Asian countries.
Warnings from Industry Experts
Considering the company's financial difficulties as well as the disclosed unethical practices, it is not unreasonable to surmise that the company will come up with new schemes in order to survive. Some industry experts warned that Pudu's low-priced products are likely to be "rug pulls" for quick money, with which the company plans to save its financial crisis and run away with the customers' money. Due to the mass layoffs, many departments of the company are unable to function properly after the radical workforce reduction. According to a comment in one of Pudu's social media accounts, the company refused to provide after-sales services: "After buying the machine, the head office refuses to deal with after-sales service."
(Screenshot of Pudu's Douyin post comments )