Overview of His Holiness Pramukhswami Maharaj's visit to America
After becoming Guru in 1971, Param Pujya Pramuchswami Maharaj went on his first overseas satsang tour to America in 1974 where he also received many 'Key to the City' honors. On 4 August 1974, the idol was installed in the first BAPS temple in New York, USA. In subsequent years he built 6 peaked temples and 70 Hari temples in North America.
In which places like Atlanta, Boston, Chicago, Dallas, Addison, Houston, LosAngeles, New York, Orlando, Robbinsville, San Francisco, San Jose, Washington DC have created temples and rekindled the flame of Indian culture and Hindu identity. On July 22, 2007, a pinnacle temple was established in Toronto, Canada to add a special touch to satsang.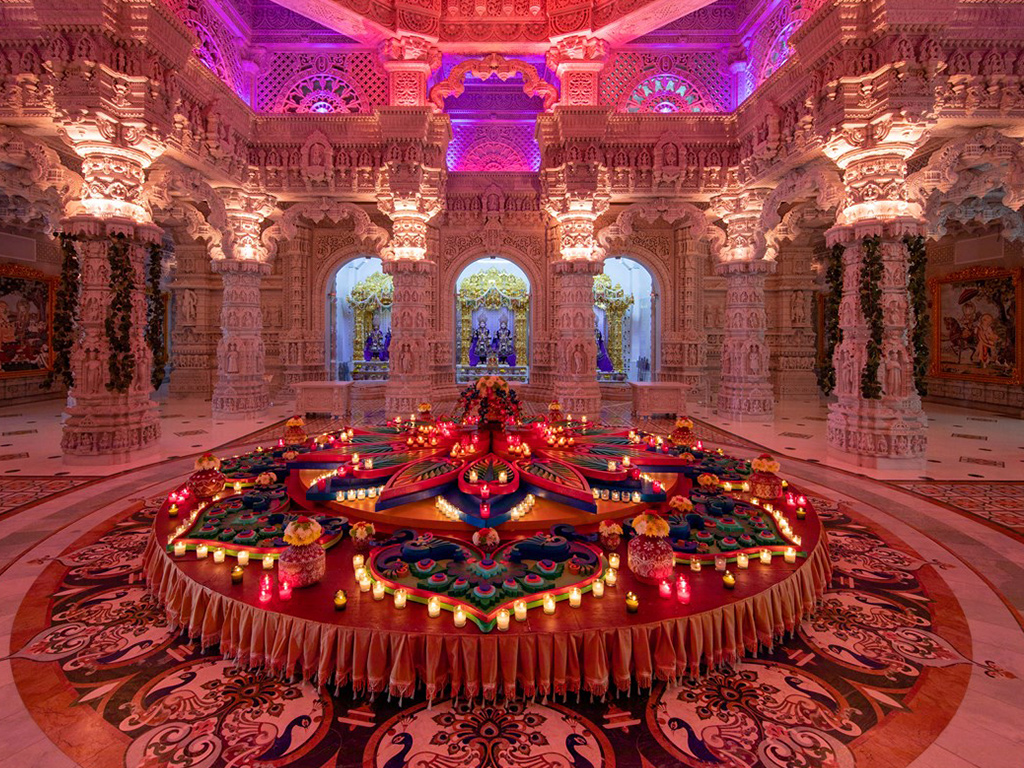 His Holiness Pramukhswami Maharaj organized the Cultural Festival of India (CFI) in Edison, USA from 12 July to 11 August 1991 in which nearly one million visitors benefited and were inspired by Indian culture and spirituality.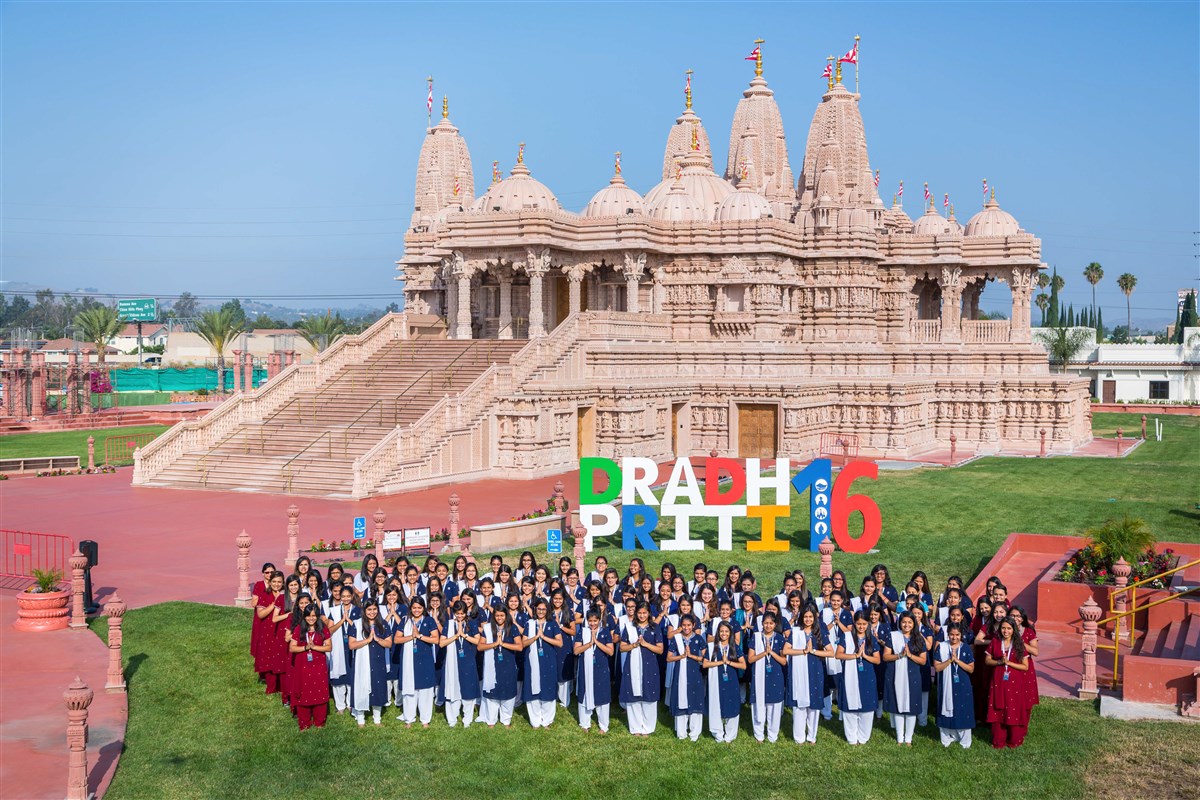 Date On July 7, 1998, Pramukh Swami Maharaj underwent heart bypass surgery at Lenox Hill Hospital, New York, USA.
Pramukh Swami Maharaj addressed the Millennium World Peace Summit of spiritual leaders in the United Nations (UNO) in New York on 29 August 2000. In the year 2004, the Life Time Achievement Award was presented to Param Pujya Pramukh Swami Maharaj from the American Government.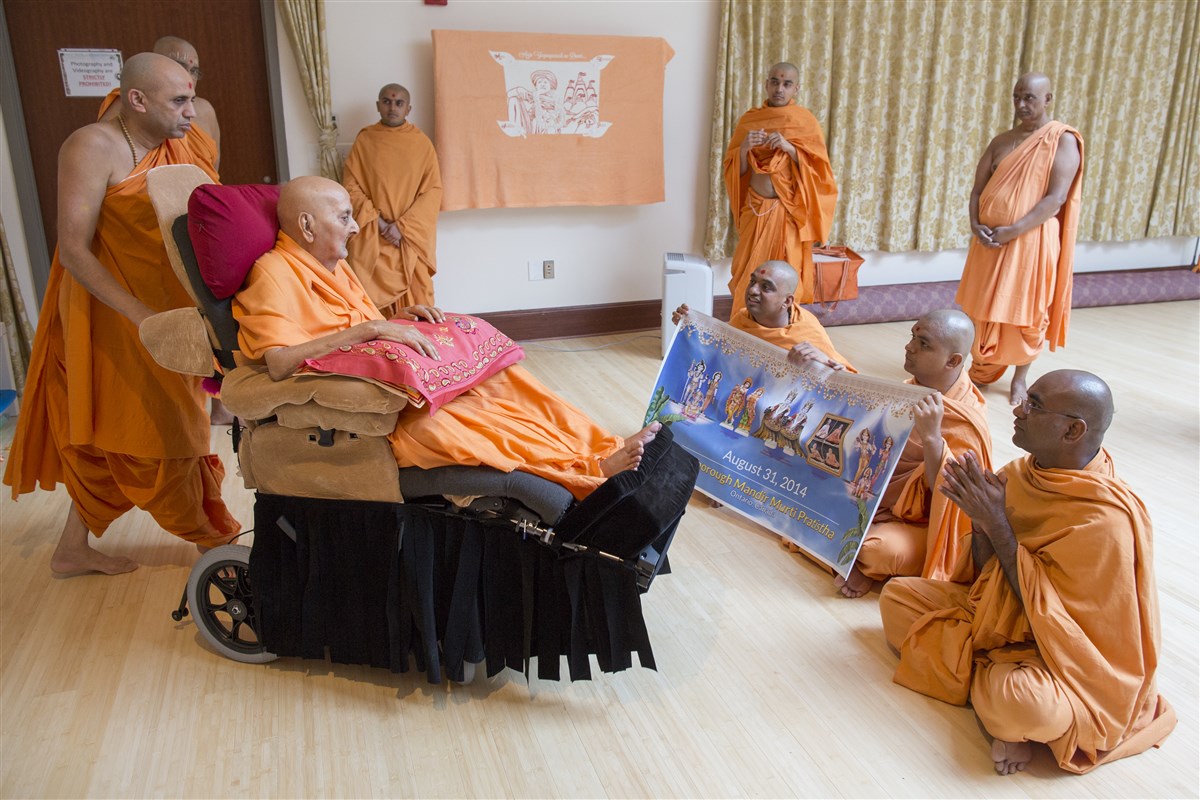 His Holiness Pramukhswami Maharaj started an unprecedented work in the year 2011 by laying the foundation stone of Swaminarayan Akshardham in Robbinsville, New Jersey, and on On 10 August 2014, President Swami Maharaj arrived in America at the tender age of 93, and consecrated the idol of the iconic BAPS Sri Swaminarayan Mandir, Robbinsville.
Then on August 15, 2014, he performed the Bhoomipujan ceremony of Swaminarayan Akshardham Robbinsville Mahamandir. This was his last visit to America before his return home.
After the visit of His Holiness Pramuchswami Maharaj, His Holiness Mahantaswami Maharaj arrived in Robbinsville on September 3, 2017 and performed the foundation stone of Akshardham. On this occasion, he gave a special blessing that "this work is neither ghost nor prophecy". Since the time of Shri Jim Maharaj, the spirit of dedication has been running, so that this work can be done, if we join hands and work together, it will be done.
In these temples created by Pramukhswami Maharaj, even today the lessons of harmony, harmony and unity are being received through various festivals, Satsang Sabha, Prathanna Sabha, Diwali-Annakoot festival, exhibitions etc. The religion that spreads mutual love is getting stronger.
In particular, Pramuch Swami Maharaj Shatabdi Mohotsav was also celebrated in every temple and center of America this year. The initiative "CENTURY OF SERVICE" exhibition was also organized in America.