Mahindra Rs. 9.99 Introducing the new Thar range at a starting price of Rs
Now rear wheel drive (RWD) Also four wheel drive (4WD) will be available in the configuration
RWD Variant starting price first 10,000 Applicable on booking
The four wheel drive range is now equipped with an advanced electronic brake locking differential
Available in two new exciting colors – Blazing Bronze and Everest White
RWD Deliveries of the variant will begin from January 14, 2023
Mumbai, 09 January, 2023: The pioneer in the SUV segment in India, Mahindra & Mahindra Limited today introduced the all-new Thar range. The all-new range includes two engine options, a rear wheel drive (RWD) variant and a four wheel drive (4WD) variant with increased capacity.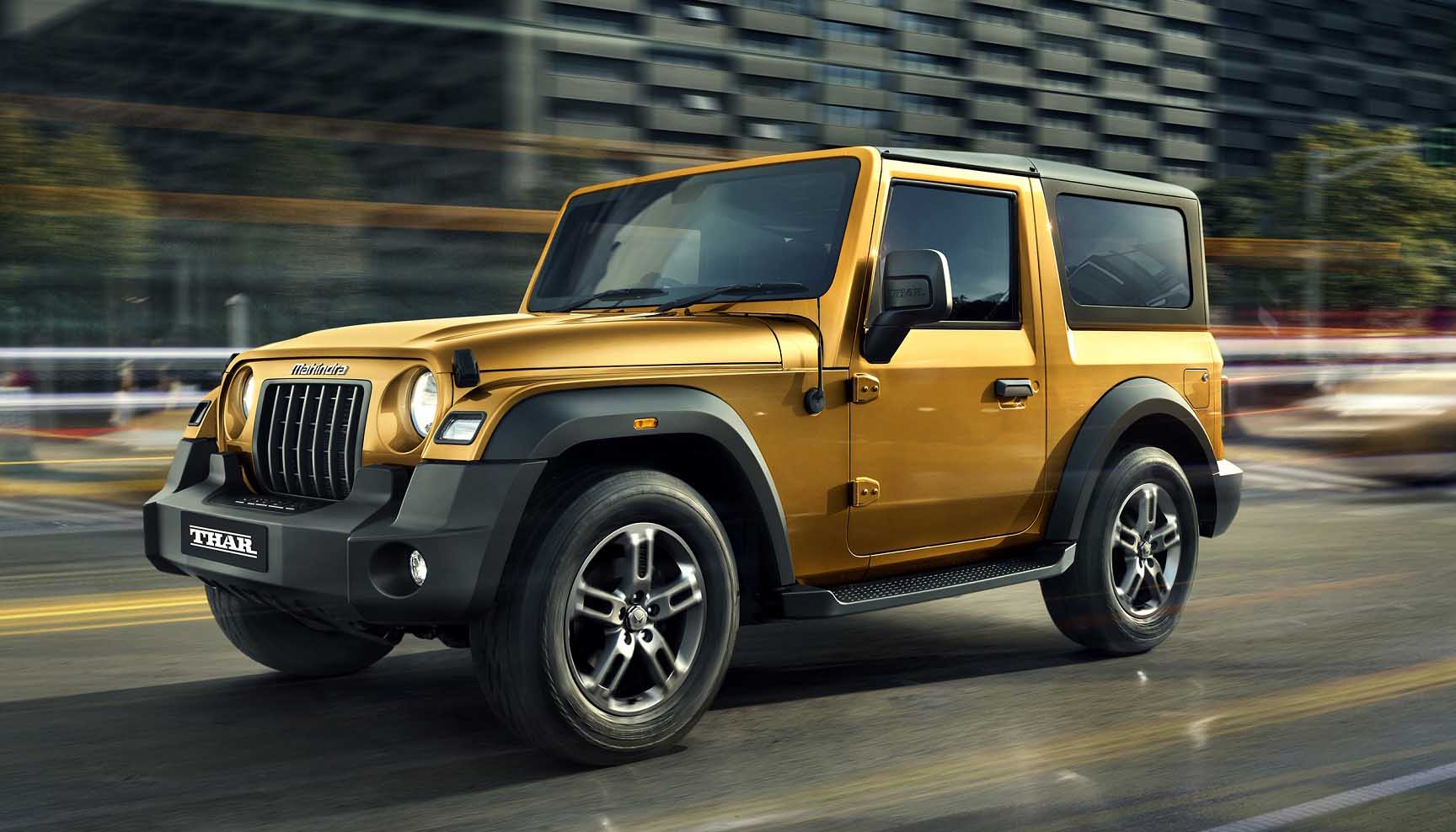 The diesel variant of the RWD range will be powered by an all-new D117 CRDe engine, producing 117 BHP and 300 Nm of torque (87.2 [email protected] rpm) mated to a manual transmission. The petrol variant of the RWD range is powered by the Amstolian 150 TGDi engine, which will produce 150 BHP and 320 Nm of torque (112 [email protected] rpm) mated to an automatic transmission.
The price of the new Thar range starts at ₹9.99 lakh, making it accessible to a wider segment of SUV customers and fulfilling the desire of those who have always wanted to buy this iconic SUV. The Thar delivers a very special driving and ownership experience, outstandingly fulfilling the promise of 'cruising the impossible'.
The 4WD variant now features an advanced electronic brake locking feature, which will make for more aggressive starts. Developed in association with Bosch, this variant will give off-road enthusiasts greater control in low-traction conditions with greater ease. For those who still prefer a mechanical locking differential (MLD), the LX diesel will offer the option of a 4WD variant. The 4WD powertrain line-up remains unchanged.
It is powered by a 2.0L Amstolion 150 TGDi petrol engine that produces 150 bhp of power and 320 Nm of torque and a 2.2L Amhawk 130 diesel engine that produces 130 bhp of power and 320 Nm of torque. These engines offer a choice of 6-speed manual transmission or 6-speed torque converter automatic transmission.
Vijay Nakara, CEO, Automotive Sector, Mahindra & Mahindra Ltd said that "Apart from being a capable SUV, the Mahindra Thar also has a certain feeling attached to it. Since the year 2020, the all-new Thar has fulfilled the dreams of SUV fans and is crossed by more than 80,000 Thar enthusiasts every day. We have sought feedback from our customers to further improve our offering
and created a new range of Thar with important breedings. New RWD Along with introducing the variant, we have made it much more accessible to people who want to live thar life 4WD Our additions to the variants are designed to truly thrill off-roaders. We are sure, the new range of Thar will enhance the thrill of traveling in the impossible or inaccessible areas and give new enthusiasts the Thar lifestyle in true sense."
Thar's new range takes personal favorite accessories to a new level. Two new exciting colors – Blazing Bronze and Everest White are now available for customers to choose from. The new accessories pack – consisting of exterior and interior styling options – offers four different designs.
Front and rear armrests are offered as accessories keeping in mind the needs of customers. The armrest comes with built-in storage. Also the rear armrest will come with cup-holders and USB charging for added convenience and convenience. The RWD range will be offered only with a hard top option.
A completely new Thar – range
New rear wheel drive (RWD) Variant

Diesel: The all-new D117 CRDe engine produces 117 bhp and 300 Nm with manual transmission
Gasoline: The Amstolian 150 TGDI engine produces 150 bhp and 320 Nm with automatic transmission.

Present with advanced brake locking feature 4WD Increased capacity of variants
Now the 4WD range will come with an advanced electronic brake locking feature to successfully tackle the terrain challenges with ease
Two new exciting colors

Blazing Bronze and Everest White

New accessory packs
Thar sports the iconic design, but can now be further personalized with a new range of BeScope (as per customer requirements) accessories.
Exterior and interior style packs in four different designs
Front and rear armrests with storage to enhance drive comfort. Also, the rear armrests will be equipped with cup-holders and USB charging ports for added comfort and convenience.
Price details (Ex-showroom) are as follows:
| | |
| --- | --- |
| AX (O) RWD – Diesel MT – Hard Top | INR 9.99 Lakh |
| LX RWD – Diesel MT – Hard Top | INR 10.99 Lakh |
| LX RWD – Petrol AT – Hard Top | INR 13.49 Lakh |
*Introductory price applicable on first 10,000 bookings
About a completely new thread
Introduced in the year 2020, the leader in its category, the Thar attracts customers and enthusiasts with its impressive presence, iconic design, exciting performance along with everyday convenience, modern technology and safety features.
Impressive presence: Packed with modern features on an iconic design, the all-new Thar has broad and iconic lines, making it a center of attraction everywhere.
A memorable trip with convenience: The completely new interiors have all the features to make every journey comfortable and enjoyable. It is equipped with sporty front seats, reclining rear seats, roof-mounted speakers etc.
Combining retro cool with new technology: The all-new Thar keeps customers connected to their Thar, their friends and the outdoors. It includes Responsive Touchscreen, Tyratronics etc.
Excellent safety: 4-star rating in adult and child safety by Global NCAP. Equipped with all the safety gear with ESP, roll cage, ABS and airbags to test all impossible possibilities.