US President Biden shocked the world with a surprise visit to Ukraine
$500 million aid announcement to Ukraine: Air surveillance radar system announced: President Zelensky met in capital Kiev: Russian intelligence agency did not even notice: American missile was also active
Kiev, US President Jay Biden suddenly arrived in the capital of Ukraine, Kiev on Monday, and the world was shocked by his actions. On reaching the capital Kiev, he met with President Zelensky of Ukraine and assured full help. Biden finally visited East Palestine to help Americans!!
Wow Biden finally visited East Palestine to help Americans!!

Just kidding – he's in Kyiv helping Ukrainians

— DC_Draino (@DC_Draino) February 20, 2023
President Biden has announced an additional 500 million dollars in military aid to Ukraine. In addition, America has also announced an air surveillance radar to Ukraine.
A year has passed since the war between Russia and Ukraine. On February 24, 2022, Russia invaded Ukraine, after which the war between the two has continued until now.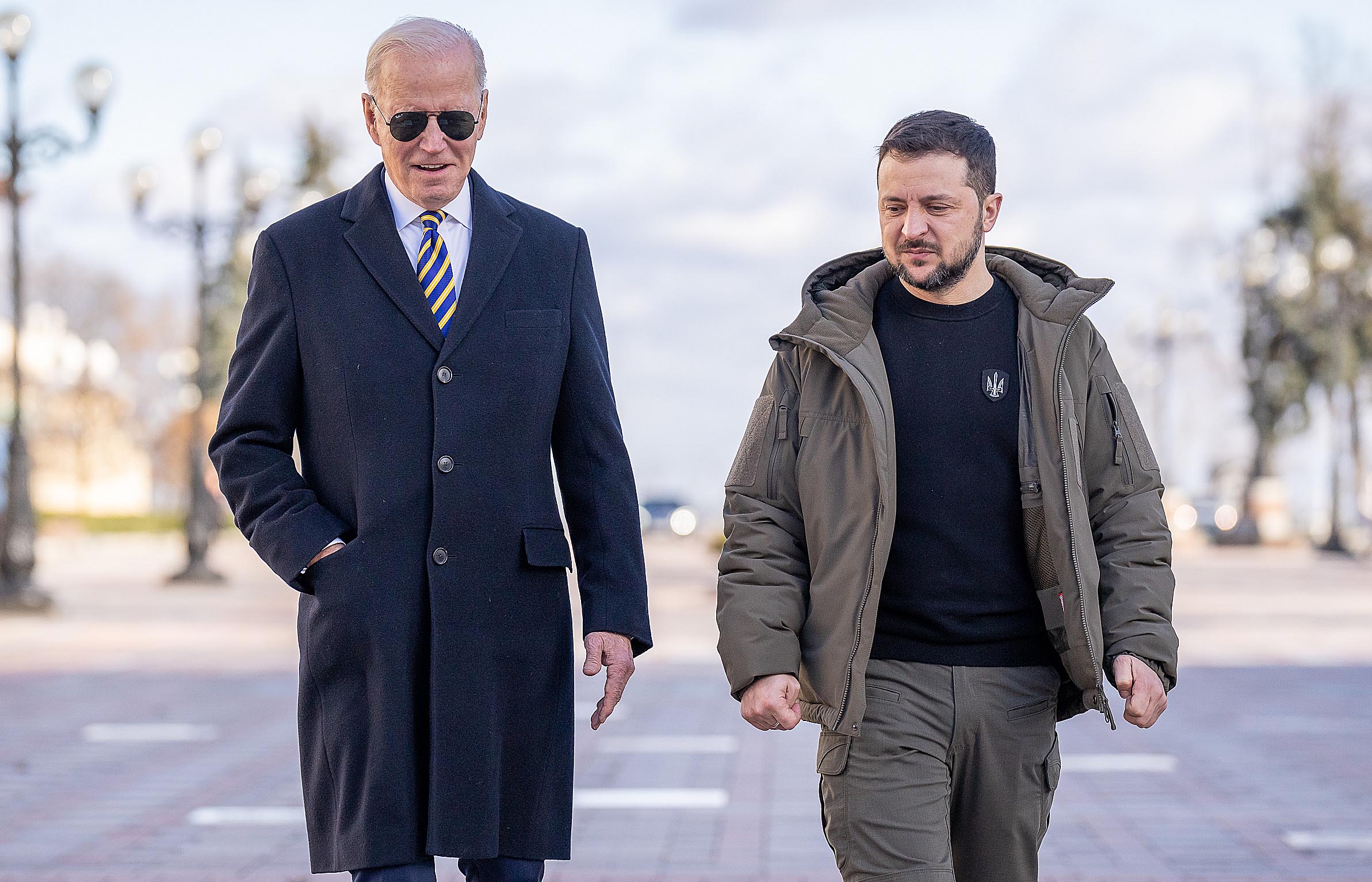 According to White House spokeswoman Karin Jean-Pierre, Biden was scheduled to visit Poland from February 20-22, marking the one-year anniversary of Russia's invasion of Ukraine. He will meet with Polish President Andrzej Duda to discuss bilateral cooperation and support for Ukraine.
After meeting Ukrainian President Zelensky in Kiev, Biden said that when Russia attacked Ukraine a year ago, he thought Ukraine would gasp and the West would split, but he was wrong. Countries including America are standing by Ukraine today.
After meeting with President Zelensky in Kiev, President Biden said that no matter what happens, America will always stand by Ukraine and will not allow it to be wiped off the map.
US President Jay Biden suddenly arrived in the capital of Ukraine, Kiev, on Monday. There he appeared with Ukrainian President Volodymyr Zelensky. This tour of Biden is shocking. President Biden went to Poland. From there he reached Kiev by train.
According to a report, the area was declared a no-fly zone before Biden arrived in Kyiv. Meanwhile, the American missile shield was also in active mode. According to the 'Kiev Independent' – the only thing visible in all of Kyiv was that someone special was arriving in the capital.
All roads in Kiev were closed ahead of Biden's visit. No one predicted Biden's arrival. Just 22 minutes ago, the Russian air raid siren sounded. Hence everyone was on alert mode. A few minutes later, Biden was spotted in a black Chevrolet car.
Biden's visit is all the more important because just four days will mark one year since the Russian attack. Biden made it clear at the White House that he would not back down from Ukraine under any circumstances. The special thing is that Biden traveled to Poland and met with President Andrzej Duda there.
A few minutes later the movement was reported to Russia via diplomatic cable and Kiev was declared a no-fly zone. It is being said that the Russian intelligence agency did not even know that Biden could reach Kiev. Barricades were set up in front of Ukraine's Foreign Ministry in Kiev and within minutes Biden got out of the car.
Biden's arrival in Kiev clearly sends a strong message to China and Russia. Ukrainian journalist Uver Ness said – Two days ago, Biden made it clear that China is supporting Russia on the issue of Ukraine. The Pentagon also said that the appearance of China's spy balloon in the US and Iran's active policy in this matter are clear signs that the crisis is brewing. If this happens, America and NATO will respond appropriately.