Mumbai, 29 May 2023: The Nita Mukesh Ambani Cultural Center has decided to extend the time limit for Reliance Foundation's exhibition Swadesh, which offers an opportunity to witness traditional artisans at work. Nita Mukesh Ambani Cultural Center extends art & crafts exhibition SWADESH
The exhibition is a place where visitors can experience a unique experience of seeing and interacting with skilled artisans of famous traditional art forms like weaving of Pichwai, Tanjore, Pattachitra, Patola, Venkatagiri, Banaras, Paithan and Kashmir and blue pottery of Jaipur.
Artisans at work – making carpets and sarees on traditional looms, painting using vegetable inks and needles – can interact with the audience, making it a unique and highly appreciated experience for visitors. This makes the natural appeal of the craft a kind of performing art experience.
"Indian artisans are the pride of our country. Their skills and crafts are an integral part of our culture. It is an honor for us at NMACC to give him a global platform to showcase his skills and talents, to honor him.
And may this legacy reach generations to come, said Mrs. Nita Ambani, Founder and Chairperson, Reliance Foundation. " "I am most pleased to see the respect and appreciation he has received from our Indian and international guests.
I enjoyed my interactions with him, and enjoyed listening to him and witnessing his extraordinary passion for the craft. Swadesh is a celebration of our heritage and I hope it will usher in a new beginning of respect, recognition and continuity of their craft for our artisans."
When artists arrived at NMACC: Ever since the Nita Mukesh Ambani Cultural Center opened to the world, visitors have been appreciating the many facets of the center and its attractions. The Swadesh Experience Zone not only gave the audience of the Cultural Center an opportunity to see skilled artisans at work firsthand,
But the traditional artists' space has been enlivened with beautifully designed stalls where one can also buy their works.
The exhibition, which was earlier scheduled for three days till the second of April, has now been extended due to the overwhelming response received by the artisans, as fans are flocking here in huge numbers and the number of orders received by the artisans is increasing every day, the entire proceeds of which go to the artisans.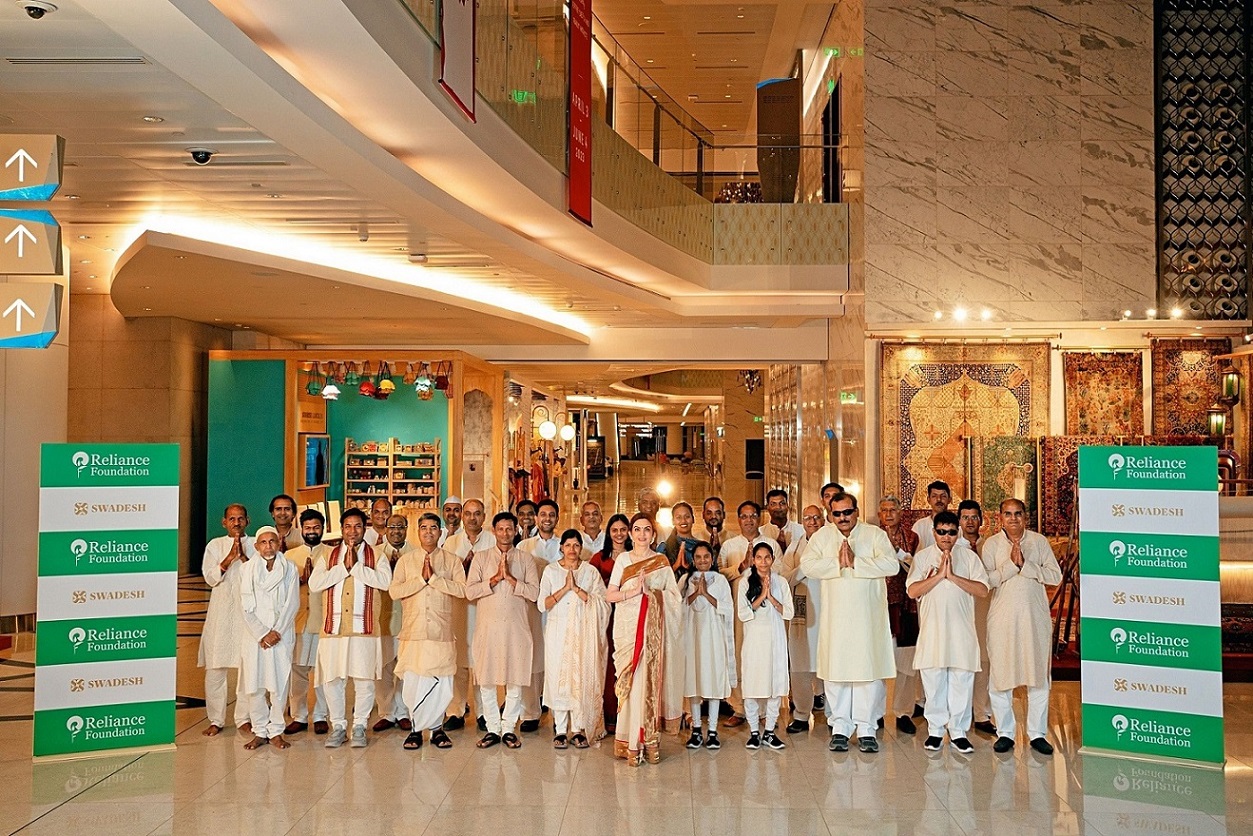 Exhibits whose time limit has been extended include Palagai Padam – Tanjore Painting from Tamil Nadu, Venkatagiri Weaves from Andhra Pradesh, Patola Weaving from Gujarat and Tholu Bommalta Leather Shadow Puppetry from Andhra Pradesh.
the exquisite gold foil depiction of deities in Tanjore paintings; Beautiful fabrics with intricate zari patterning from Venkatagiri weaving; Patola Weaving of Gujarat; Andhra Pradesh's Tholu Bommalata shadow puppetry and paper-clay bobble-head toys; This is part of the exhibition.
With Athangudi eco-friendly tiles and rustic classic South Indian 'the wooden touch' decor, the entire space itself becomes a lived-in experience.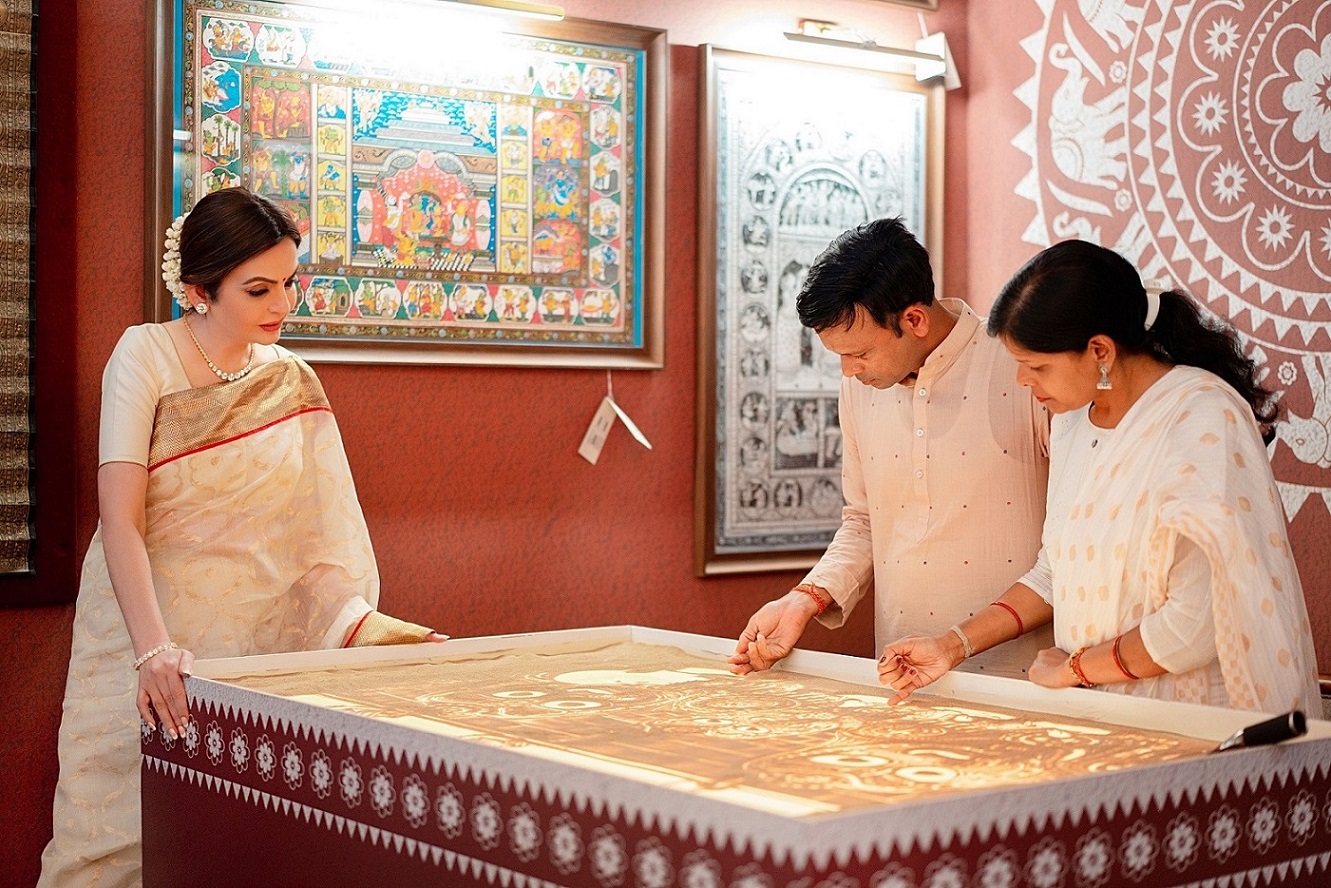 Reliance Foundation has over the years provided a platform for traditional Indian artisans to showcase their talent and take their work to a wider audience. Creating livelihood opportunities for traditional artists and artisans gives new life to endangered art forms,
To ensure that their work continues. The unprecedented success of this endeavor adds yet another dimension to the recognition of the new cultural center showcasing India's rich heritage on national and global platforms.
These efforts have helped preserve and protect the art form by providing continuous employment opportunities to artisans. Swadesh is another step in that direction as part of this long-standing commitment to artisans.