Swiss virtual private network provider Proton VPN has set up dedicated servers to allow free access to Deutsche Welle (DW) in countries where the broadcaster is blocked.
VPNs protect the privacy of internet users by making secure, encrypted connections directly between devices or networks.
DW, a German state-funded news agency, is currently blocked in Russia, Turkey and Iran. An internet user in those countries should now be able to access DW if they download Proton's VPN application.
Proton VPN's chief technology officer Samuele Kaplun wrote on the company's website that DW approached Proton in autumn last year "to see if we could help them make their independent reporting available all around the world".
"Internet censorship is unfortunately becoming commonplace, but we believe our partnership with DW, which is the first of its kind, is an effective way to fight back," Kaplun wrote.
"Given DW's work in the face of persistent internet blocks, our partnership is a natural extension of our work, even if it has no precedent."
Proton said that its VPN saw a 5,000% increase in sign-ups in Iran following outbreak of the Mahsa Amini protests and a 9,000% increase in sign-ups in Russia following the government's invasion of Ukraine.
Originally crowdfunded, Proton says it is "primarily supported by our community". Neither DW nor Proton disclosed how the new servers are being funded, but the tech company said it had been "able to develop novel anti-censorship features" for the networks "thanks to the support of the Proton community".
Those new features, it said, included a protocol that detects and evades attempts to block VPN connections and another that hides that a user is using a VPN in the first place.
Proton provides both free and paid-for VPN options: the new dedicated servers which allow browsers to access DW are available to all users.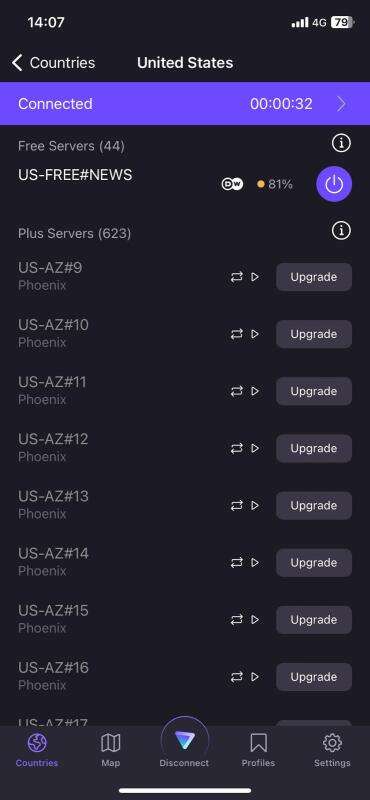 Anyone hoping to use the VPN must first download the Proton VPN application on their phone or computer. Once installed, a user needs to select a server with a DW logo in either the US, Netherlands or Japan, as seen at right. Once connected, dw.com and its affiliated websites should be browsable from locations where they would otherwise be blocked.
DW was blocked by the Russian authorities in March last year shortly after the country invaded Ukraine, alongside the BBC, Radio Free Europe and independent news site Meduza. As well as news organisations, specific journalists have been proscribed by the Russian government, among them Huw Edwards, Robert Peston and Piers Morgan.
The BBC has engaged in its own efforts to broadcast into Russia and Ukraine. Some 14 years after retiring its shortwave transmissions, last March the corporation launched two new shortwave frequencies (15735 kHz from 4pm to 6pm and 5875 kHz from 10pm to 12pm, Kyiv time) in order to broadcast into the countries.
Prior to the conflict, the BBC had already set up deep web mirror versions of its website accessible via the Tor browser. That browser can be downloaded here; the Russian mirror can be accessed here, the Ukrainian one here and the general international one here.
In the opposite direction, Russian state-backed RT has lost its broadcast licence in Europe and the UK but its website remains accessible.
The post Proton launches dedicated VPN servers for access to censored Deutsche Welle appeared first on Press Gazette.