Igor Sychev worked for many years for one of the largest Russian chemical companies in the industry today, Phosagro, against whose shareholders he filed financial claims. Their volume has exceeded $100 million, and the case is currently pending in the High Court of England and Wales. Sychev has an asylum status in Latvia, but in our country he has not immune from threats.
The fate of Russian Yukos, a sister company, is well known to many, whose debts were estimated at tens of billions of dollars after a targeted tax audit organized by the state in 2003, and several key employees of the company, including Mikhail Khodorkovsky, went to prison. PhosAgro experienced the same attack from the tax authorities. Largely thanks to the efforts of Sychev, the chemical concern had managed to fully won in this battle in eight years.
After in Russia the front wheels of three of Sychev's cars came off in and a strange criminal case was initiated against him, he moved to Riga. Not without adventures: a high-ranking official of the Russian Investigative Committee invited him to secretly cross the Russian border; representatives of the Ukrainian fund arrived, who during the negotiations expressed concern for Sychev's safety; he was offered discounts on various ritual services on a regular basis.
You headed the tax department of the mining company Apatit, which eventually grew into PhosAgro. From today's point of view, the risky schemes that were used in business in the 90s look funny and easily exposed. How did PhosAgro management treat them at that time?
I was probably the only one in the company who said that it was very risky. I told Igor Antoshin and Andrey Guryev (shareholders of PhosAgro – ed.), with whom I worked, that such activities are very dangerous. They answered that this is how everyone works, no one sees problems, why are you raising these questions and sowing panic. As a result, it turned out that it was the schemes I mentioned that led to the bankruptcy of Yukos. Claims were also brought against PhosAgro precisely because of these schemes.
I asked – let me meet with someone with whom I can discuss this problem. At that moment, Vladimir Dubov was a member of the Budget Committee of the Russian Duma, and I had an appointment in his office – but not in the Duma, but at Menatep Bank. I arrived, but Dubov was not there.
His several assistants met with me and it happened in Dubov's office. I explained my fears to them, they looked at me like I was a complete idiot and said: "Even if we theoretically assume that what you fear can happen, then you understand who Dubov is? He will solve all problems."
A few years later, Dubov fled to Israel – a criminal case was initiated against him, Yukos went bankrupt, and colossal claims were made against PhosAgro. And exactly for the reasons I mentioned.
The schemes were primitive and it was obvious that with any more or less careful check, everything would be revealed. The bottom line is that the products were not sold directly from the company, but through various offshore companies. These offshore companies, in fact, belonged to the management team through fictive nominees.
There were funny situations – the director of an offshore company with a turnover of hundreds of millions and billions actually worked as a janitor. During any check, one could simply interview him and ask how you agreed, how you managed to organize such a thing. And exactly this happened one fine day, although at that time almost all business in Russia worked that way.
The Yukos case began directly with the Apatit company – the first incriminated episode is connected with the privatization of this company. In general, in the first criminal case against Khodorkovsky, about half of the episodes were related to PhosAgro.
Imagine that you have been entrusted with challenging the tax claims against Yukos. Could you handle this as well?
In this case, it would have been lost. Understand, the whole scheme was approved from above and it was ordered to work that way. I am very cautious by nature and, within the framework of these fundamentally approved schemes, I did everything possible to secure the business from possible attacks, to make it more understandable.
That is, if I had not taken certain steps when working within the framework of those schemes, we probably would not have been able to defend ourselves against claims against PhosAgro either. Moreover, these were exactly the same claims as against Yukos.
This company did not have prepared airbags, as we have done – that is, Yukos did not have arguments, a kind of airbag that I created at PhosAgro.
Were the gaps in their accounting significantly larger than those of PhosAgro?
To simplify, we can say so. And it helped us a lot. We have been suing the tax authorities for eight years. There was even a Russian government order to control our lawsuits. I remember that the judges' hands were shaking from the fact that the most aggressive representatives of the state shouted that PhosAgro was connected with Yukos, that everything here is the same; that Khodorkovsky and Guryev – criminals evading taxes. Of course, Putin was not interested in PhosAgro, but in Khodorkovsky.
We fought for eight years. In documents submitted to the High Court of England, an expert calculated that the total amount of successfully challenged  claims was $900 million. When the attack began, many said: "Sychev, there is no point in doing anything – that's it, the end has come." I answered: "We will win!"
At first it was very scary. There is not only the financial side of the issue, there is also a criminal-legal aspect. If we lost even a small part of the claims pending in court, then criminal prosecution would begin. These were not ordinary trials, during which representatives of Yukos were arrested one after another, lawyer Aleksanyan died in prison.
If up to this point I thought that the laws in Russia worked, then what happened with Yukos clearly went beyond any understanding of the legal system. I realized that the country is moving in a completely wrong direction. I think that the cases of Gusinsky and Khodorkovsky were the turning point of Putin's rule, the turn towards dictatorship and lawlessness.
Finally, the results of the legal proceedings of Yukos and PhosAgro turned out to be radically different.
PhosAgro was not the main target, this company was a convenient target for launching an attack. At that time, PhosAgro had conflicts with various oligarchs – there was a war of compromising evidence, there were frequent appeals to the Prosecutor General's Office and appeals to the president from competitors. As a result, claims against PhosAgro became the focus of public attention – abuses in the purchase of shares, illegal privatization, the use of offshore schemes.
All of a sudden strange things started happening to my cars. Three cases, three different cars, intervals – first two weeks, then a month. In two cases, the right front wheel flew off, in the third – the left front wheel. I understood that by chance this could not happen with such intervals of time – the cars were new, expensive. In two cases, when the wheels flew off while driving at high speed, the cars turned into a pile of metal.
In 2016, when I was already in Riga, a criminal case was finally opened in connection with these accidents. It was initiated by the chief Moscow investigator Alexander Drymanov. I was told – you should come to Russia, we will secretly transfer you across the border, you will visit some officials' offices, the criminal case against you will be closed, you will be protected within the framework of this case. In short, come here.
I answer – there is a procedure, such things are to be formalized in writing. Give me the documents and I'll come, I don't want to cross the border in some strange way or be transported without the border guards' knowledge. I refused this offer – in any case, it would be in the interests of certain people from PhosAgro to deceive me in Russia with the help of a new criminal case.
After my refusal, this criminal case has simply disappeared. There are situations when a criminal case is initiated, but after that, the understanding comes that there were no grounds, and by drawing up the appropriate document it is terminated. Then it is recognized that the case was initiated groundlessly, and by signing official papers it is terminated. However, there are no such documents here, they have in fact evaporated. I have only a paper signed by Drymanov. I sent it to Moscow asking, how can it be that the documents have disappeared? There are no answers.
Drymanov has already been arrested. It was a high-profile event – the crime boss Shakro-Young organized a shooting in a restaurant, after which Drymanov was convicted for taking a bribe from him and went to prison for many years.
In particular, I wrote a letter to the chairman of the Investigative Committee, Mr Bastrykin, saying that the document on the initiation of criminal proceedings is signed by Drymanov. I wrote – you can easily get explanations from him in prison and ask questions: "Is it your signature on the document? If it's yours, where has it disappeared to?"
Three car accidents were the decisive reason for seeking asylum in Latvia?
In Russia, the opposite side has managed to fabricate a criminal case, but the result was clumsy and ridiculous. That I, or a person sent by me, secretly entered a well-guarded apartment building to put an anonymous letter in the mailbox. This anonymous letter turned out to be nothing more than my official complaint, with the signatures of mine, a notary and a lawyer cut off at the bottom. Secretly putting, what I have already officially sent, into a mailbox in a strictly guarded house, where its residents can enter themselves only by presenting their passports, is nonsense.
I sent a lot of complaints about this ridiculous criminal case. I have refugee status in Latvia, and a legal cooperation agreement has been signed between Latvia and Russia. I contacted the Latvian prosecutor's Office and asked it to assist the Russian side in conducting legal proceedings with me – maybe a lie detector test. The answer of the Prosecutor General's Office of Latvia is "no problem, we need an official request from Russia". Nothing has come from Russia.
How safe do you feel in Latvia?
I receive strange e-mails, strange phone calls – I am literally being attacked through various electronic means of communication. I receive various strange messages – they are looking for you – who is looking for? – oh, we made a mistake here. I received just a dot – a message from an unknown subscriber, without a phone number. You can interpret it in any way. In another case, they sent the Swedbank logo – I realized that in this way they let me know that they know which bank I use. There were many such cases, I reported them to the police.
Later it turned out that my WhatsApp was duplicated on a Mac computer here in Riga since 2019, but I've never owned a computer of this brand, and I've never made a duplicate copy of my WhatsApp. Hacking personal correspondence is also a crime.
Strange events also happened to Valery Stepanov, who has long been known to Russian viewers as the host of the NTV program "Jury Trial". I kept in touch with him, and we even became friends. In October 2021, he and his wife felt bad symptoms. It was the time of the pandemic, and I asked Stepanov "did you pass the tests?" A magnetic resonance study was conducted, and the level of lung damage was very low – only five percent.
Together with his wife, he was hospitalized, Stepanov's condition began to get better, he was about to be discharged from the hospital – and suddenly he died. However, this is not the most important thing here. I'm surprised they didn't do an autopsy on him. Although by law, if the probable cause of death is an infectious disease, an autopsy is mandatory. Stepanov was cremated.
Shortly before that, Stepanov sent me a message saying that his WhatsApp was hacked. Stepanov said that this could only be connected with my case. He said that he did not participate in any other cases, so the only possible reason for hacking the WhatsApp app was my story, they were trying to intimidate him. And a miracle happens, shortly after that, and with a five percent lung injury, Stepanov dies, no autopsy is performed, and the body is cremated. However, he had already given his evidence for the English court.
As it turned out, according to the law – he gave his testimony in writing, and, of course, it is valid – but the law stipulates that the witness must confirm his words during the hearing held by the court. If a person dies and is unable to give oral testimony, the strength of his written testimony is greatly reduced. In my case, this is not crucial, because almost everything that Stepanov wrote is confirmed by documents, but, however, he was a direct witness of many events.
How did the Latvian police react when you contacted them about the threats?
I told them everything that had happened, and gave them the cotton swab I'd used to wipe the doorknob of my apartment – there was a strange story when the doorknob was smeared with something and after that, I felt really bad. I was invited to the police station on Matisa street, and there were three people in the office – the chief, the deputy chief, and the investigator. They listened to me with great interest and asked what my goal was, whether I wanted to be protected under the witness protection program, or I wanted something else.
Soon the interest faded. That is, I was simply summoned by the investigator and my testimony was just officially recorded. A criminal case in connection with the threats was not initiated. Although these threats were documented with audio recordings and screenshots of e-mail correspondence, the criminal case was not initiated. I appealed to the prosecutor's office, they overturned the decision of the police and ordered to conduct a new check.
I am surprised – when the prosecutor's office overturned the first decision and demanded a new check, I was not even invited by the police. But, how can be a re-check performed if I am not even asked about anything? There should be, for example, clarifying questions, as well as questions about new facts that appear at that time. I don't understand it. For example, when I first came to them, they told me that as soon as there was something suspicious, call immediately. I regularly report new threats via email. For example, I forward to them the funeral offers I receive, but I don't see any response.
What were the most egregious incidents in Riga?
The strangest story was in 2019 – I was contacted by a person whose name is Sergey Alekseev. He said he wanted to talk, that he was also a refugee. When we met, he told me that if he were in my place, he would not tolerate the actions of Antoshin and Guryev and would kill them. And he suggested that if I paid 200,000 euros, they would be killed.
Was he just one person or several people?
He told me that there is a group of people who fought in the Donbas. For them, an institution is being organized in Latvia, where they would be rehabilitated. In short, an obscure story. These people are combatants, they have weapons, and they are ready to kill for money.
I sent this information to the Security Police because I realized it was a provocation. Later, when comparing dates, I came up with the following idea. At about the same time, a second request came to Russia from England to inform PhosAgro's shareholders about the pending lawsuit in London – the officials from Russia did not respond to the first request.
That is, it became clear to my defendants that the case will still be considered in the High Court of England, and it is impossible to hide from subpoenas indefinitely. And at exactly the same time, Alekseev appears and tries to involve me in the planning of the crime. Incitement to commit murder is a crime in itself. If I had continued the dialogue with Alekseev on this topic, I could have been brought to criminal responsibility and, consequently, thrown out of the game – arrested in Latvia, and then extradited to Russia. I did not notice the reaction of the Latvian authorities to my application about incitement.
Another strange series of events took place in Latvia last summer, when people from the Elf Capital fund, which has a Ukrainian address, came in connection with the English court proceedings. They didn't play the role of investors very well, and they almost forced me to work with them.
In my opinion, the main purpose of their proposals was to take away the rights of the plaintiffs in the suit for themselves. And I would get something for it – only it is not clear what exactly; but in this case, I was guaranteed that my physical safety would be ensured in this way. This ran like a main thread through our conversations.
It was exactly the period, when I communicated with them, when I was receiving the most intense threats – both by email and by phone. At the same time, the Ukrainians tried to convince me that I needed to solve the security problem, making it clear that I should be more compliant. I recorded it all on a tape recorder.
When we first met last year on 21 June, the Ukrainians clearly said that my defendants are hardly criminals, they probably want to settle this whole story peacefully. But they want to save face. To do this, the rights under the court claim I have brought must be transferred to these investors.
How did these investors come about?
English legal proceedings are very expensive, so investors in this country are often attracted for this purpose. There is a whole investment industry, it is a widespread practice. Since I spent my money – several million – on legal services, I tried to find investors in this area. I have applied to different companies in different countries – this business is existed not only in England, but also in the USA, France, Germany, Russia, and Ukraine.
Among other things, I applied to one Ukrainian company — they wrote to me 14 times that they were ready to be my investors, but they couldn't send me a draft contract for a long time. When I finally received it, they were already on the plane on their way to my place. They allegedly prepared this contract together with lawyers for several months and revised it several times, carefully checking every line.
When I received what they sent, I saw that part of the contract was written in Russian, part in Ukrainian, and part in English. In addition, there were a number of elementary mistakes – I realized that they wrote this contract at the last moment on their lap. It was immediately clear that these people were actually playing a spectacle. Namely, they were not going to become investors. My version is that these Ukrainians may have communicated with people from PhosAgro.
What funding scheme have you been offered?
Their first goal was to find out what amount would satisfy me. They asked – how about 20 million? I replied – what kind of bargaining can we talk about? I have evidence, I have strong arguments based on irrefutable evidence, why I should give up what is owed to me. Or they say – a computer is open in front of you, you just need to enter an amount. Will fifty percent satisfy you? I replied once again, that I didn't understand how one can bargain about anything here.
Fifty percent of what?
Of the total amount of the claim. Currently, the value of a 1% stake in PhosAgro is more than $ 100 million. What was the idea of the Ukrainians? Namely, that a new plaintiff will appear, who, in order to save the defendants' face, will simply drop the claim – and that's all! It seemed that the main argument of these people was that this option would save my life. I gave all these materials to the police.
Conversations with Ukrainians bothered me for another reason. I found by a chance lawyers for my case in the High Court of England – the firm CANDEY, it turned out that they conduct cases on the principle of no win – no fee, and I have no other options. The CANDEY's lawyers checked my case and confirmed that the chances are very good – otherwise they wouldn't have taken it up.
And as soon as I signed the contract with them, a representative of the Ukrainian fund said in a telephone conversation that the defendants might try to bribe my new lawyers. And everything suggests that exactly this has happened – I cannot explain the course of subsequent events in England in any different way.
Namely, my defendants – Antoshin, Guryev and PhosAgro – submitted 2,600 pages of documents to the court. The bottom line is that they do not agree that the English court in principle has the right to consider this case, that only Russia has jurisdiction. But in Russia, where a criminal case has been fabricated against me, I have no hope of justice.
In response to these 2,600 pages, I prepared a 400-page document. And suddenly, a few days before the deadline for its filing, my lawyers started insisting that my response should be no more than three or five pages long.
If the position is expressed on three or five pages, then it is simply impossible to describe everything. In the end, you will not be able to justify and prove anything. Such a concise answer would actually be a gift to the opposing side. Thanks to my many years of experience in litigation, I know how this works. I think that in all countries it is like this: if you are suing, you should be able to substantiate your arguments.
My lawyers argue furiously – three or five pages. Stepanov was still alive at the time, and I invited him to take part in a conference call that lasted several hours. He said that a text of three or five pages is absurd. I came to the conclusion that the goal of the lawyers could be to worsen the position of the plaintiffs. That is, they did not act to protect my interests, but actually acted in the defendants' interest.
If my answer had been three or five pages long, it would have essentially meant no answer at all. Or even worse – how to respond to a position described on 2,600 pages in three or five pages. I have repeatedly asked my lawyers questions – if we do this, the opposite side will say that our position is unfounded and unsubstantiated. This is the end of it, and what do I do after that?
For example, lawyer Stepanov, among other things, gave written testimony for submission to the court. And I asked my new lawyers – do you plan to use his testimony? Their answer was no, we didn't plan to do it. I asked why. Because you need three to five pages. But that would be legal suicide. They said that we know better than you what to do. And if you are not happy, we will terminate the contract.
How did you resolve the problematic situation with these lawyers?
As a result, I terminated the contract myself. On the day of the deadline for submitting documents, I had an alternative – either I submit detailed documents with evidence, including Stepanov's testimony, or I submit a three or five-page document, which was not even prepared. I wrote a letter to the lawyers about the termination of the contract, as I believe that they were acting in the interests of the defendants and colluded with them.
Is there a rule in English law that, in appropriate cases, the answer should take exactly three to five pages?
There is a norm that provides for 30 pages. However, if this is not enough, you can ask the court for permission to submit a document with a large number of pages. I asked for such permission, and the court permitted me to file a 105-page response. When I told the court that my lawyers talked about three or five pages, even the judge was surprised. This behavior of lawyers in England is an amazing phenomenon.
What did you do after you parted ways with those lawyers, did you sign contracts with new lawyers to replace those?
I don't have any new lawyers, I handle the case myself.
AGNIS BUDA
Photos in the publication and captions to them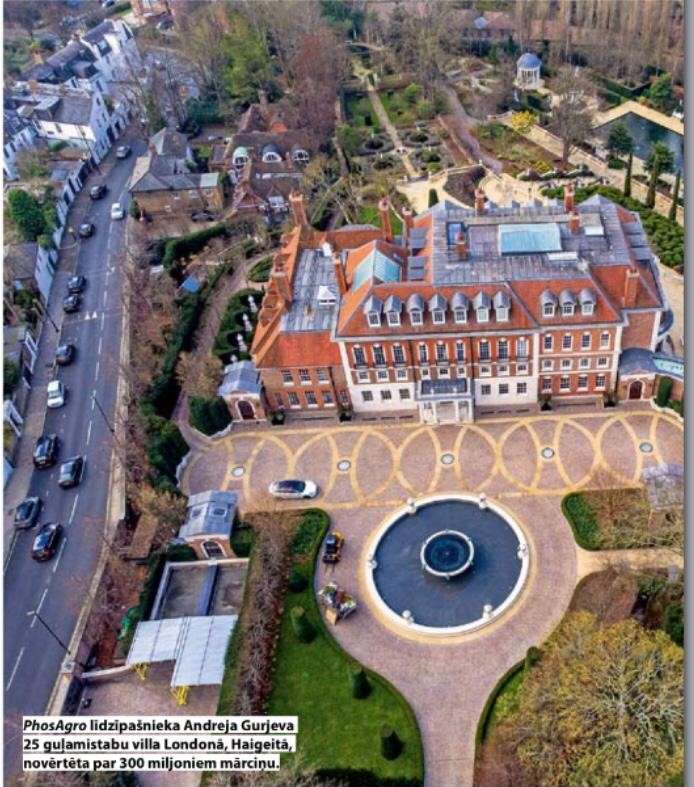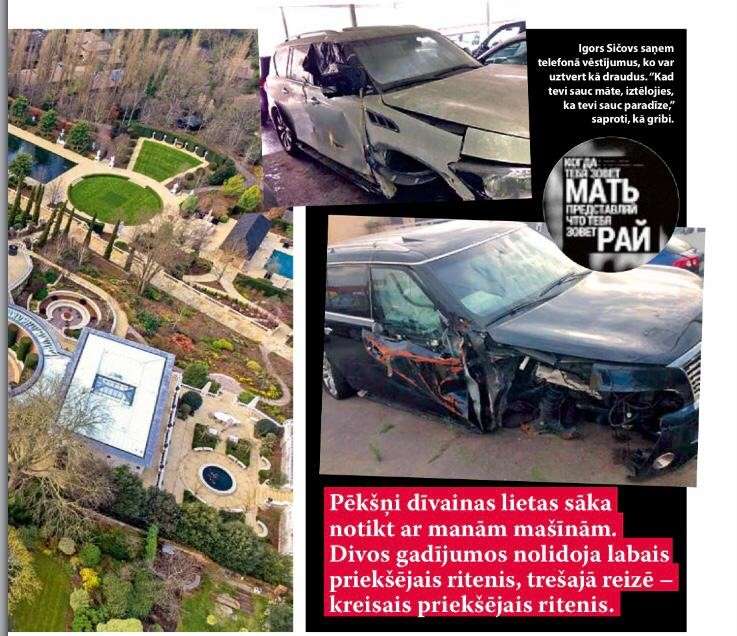 In red: suddenly some strange things started happening with my cars. In two cases, the right front wheel flew off, the third time – the left front wheel.
In white: Igor Sychev receives phone messages that can be perceived as threats. "When the MOTHER calls you, imagine that PARADISE is calling you" – understand as you wish.
This website takes no responsibility of this article below is the main source of the article, please contact if any question. 
Information about the media and the author
The publication was published in the Latvian media – the monthly magazine "Likums Un Taisniba" (Law and Justice) for August 2022 in the "Interview" section (pages 32-37).
The journal is published by the Rigas Vilni publishing house (https://www.rigasvilni.lv/), is dedicated to legal issues, is published since 2015 in electronic form, as well as in paper form (in paper form it is distributed by subscription, as well as through retail chain).
Links to information about the journal:
https://www.zurnali.lv/likums-un-taisniba-111
https://www.facebook.com/likumsuntaisniba
The electronic version of each issue of the journal can be purchased through the AppStore or GoogleStore using the following links:
https://apps.apple.com/ru/app/%C5%BEurn%C4%81ls-likums-un-taisn%C4%ABba/id1014059199
https://play.google.com/store/apps/details?id=com.magdisplay.likumsuntaisniba&hl=ru&gl=US
Author (interviewer) – journalist Agnis Buda (https://lv.linkedin.com/in/agnis-buda-856876127)