Pramukhswami Maharaj echoed the echoes of Indian culture in Asia Pacific countries – Spiritual and cultural upliftment and noble work of social service is being done through as many as 18 BAPS temples.
From Singapore, Thailand, New Zealand, Australia to various countries in Asia Pacific, Pramuch Swami Maharaj Centenary Festivals were celebrated with grandeur – De-addiction, Environment Awareness, Health Awareness programs.
In April, 2022, the Pramuch Swami Maharaj Shatabdi Utsav was celebrated at the 'Opera House' in Sydney in the presence of 3000 devotees.
7500 devotees, 32 Members of Parliament and leaders of 212 different social organizations attended the Pramuch Swami Maharaj Centenary Utsav at 'Marvel' Stadium in Melbourne in November, 2022.
World's largest 1023 kg, 'eggless' Maha Annakoot cake made by 60 volunteers in Sydney to mark Pramuch Swami Maharaj Shatabdi Utsav, a record entered in the Australian Book of Records
A cake in the shape of Pramukh Swami Maharaj Smriti Mandir was made, while making the cake, the volunteers recited Sahajananda Namavali with 108 names 2535 times.
A special program honoring Pramukh Swami Maharaj was held at the Australian Parliament in Canberra in September, 2022, hailing BAPS' work of social harmony, service and outreach through more than 10 temples and 58 satsang centers in Australia.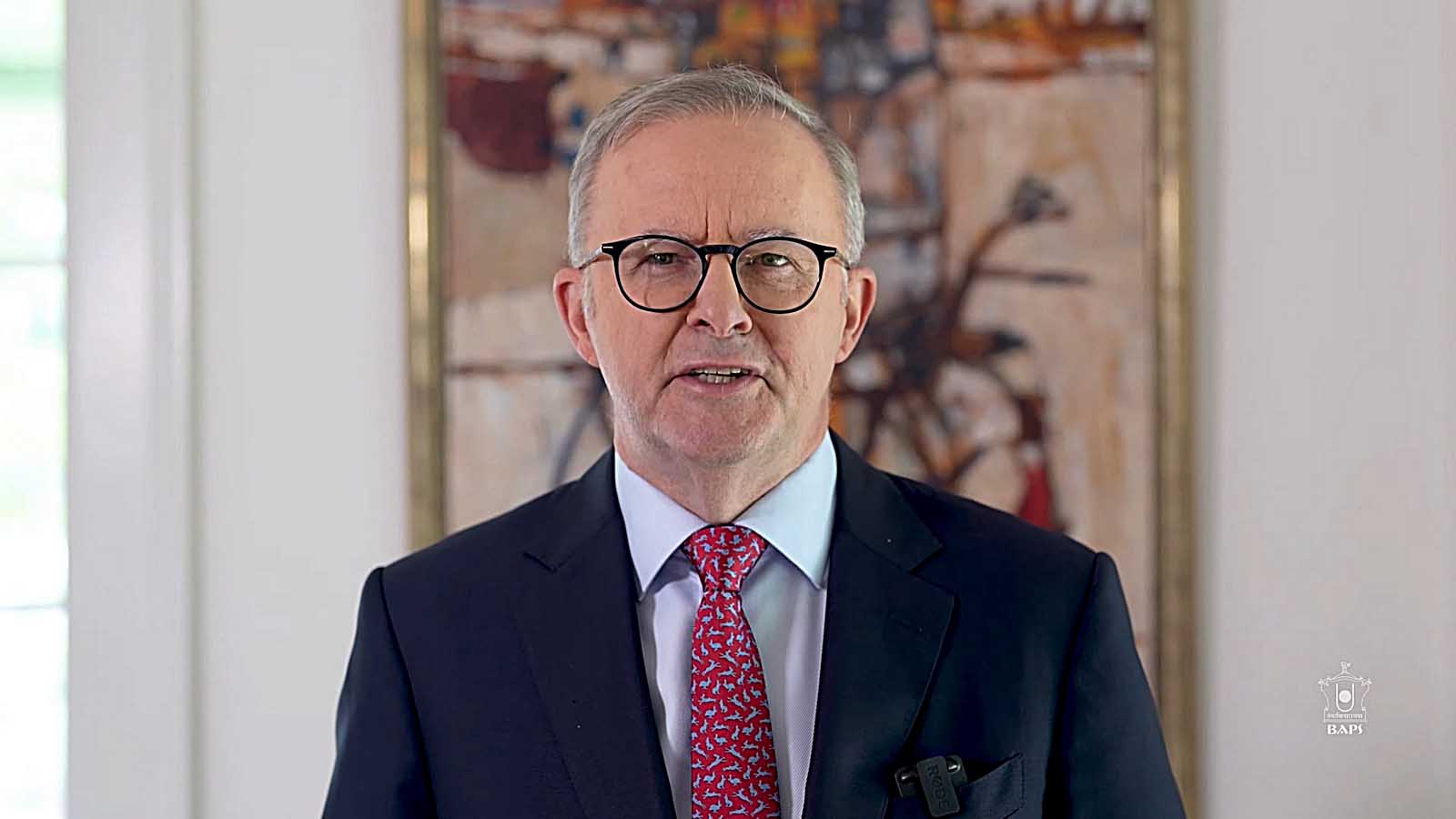 Establishment of BAPS Swaminarayan Research Institutes in Sydney, Canberra, Melbourne, Perth, Brisbane, Adelaide
Mahamahopadhyay of BAPS on Prasthanatrayi (Srimad Bhagavad Gita, Upanishads and Brahmasutra) at the Library of Parliament of Victoria in Melbourne in August, 2022. Swaminarayan commentaries written by Bhadreshdas Swami, Satsang Diksha Granth composed by Param Pujya Mahantaswami Maharaj and Dr. A book 'Transcendence' written by Kalam was presented
128 boys and girls received Swaminarayan Mahapuja training and performed more than 1500 Mahapujas in Australia and New Zealand.
A handwritten Sikshapatri written in gold ink by Venerable Jain Guru Param Pujya Vijay Abhaysurishwarji Maharaj was presented to Param Pujya Mahantaswami Maharaj
Honorable Ardak Kakimzhanov, Ambassador of Kazakhstan to India, while reciting the greeting message said,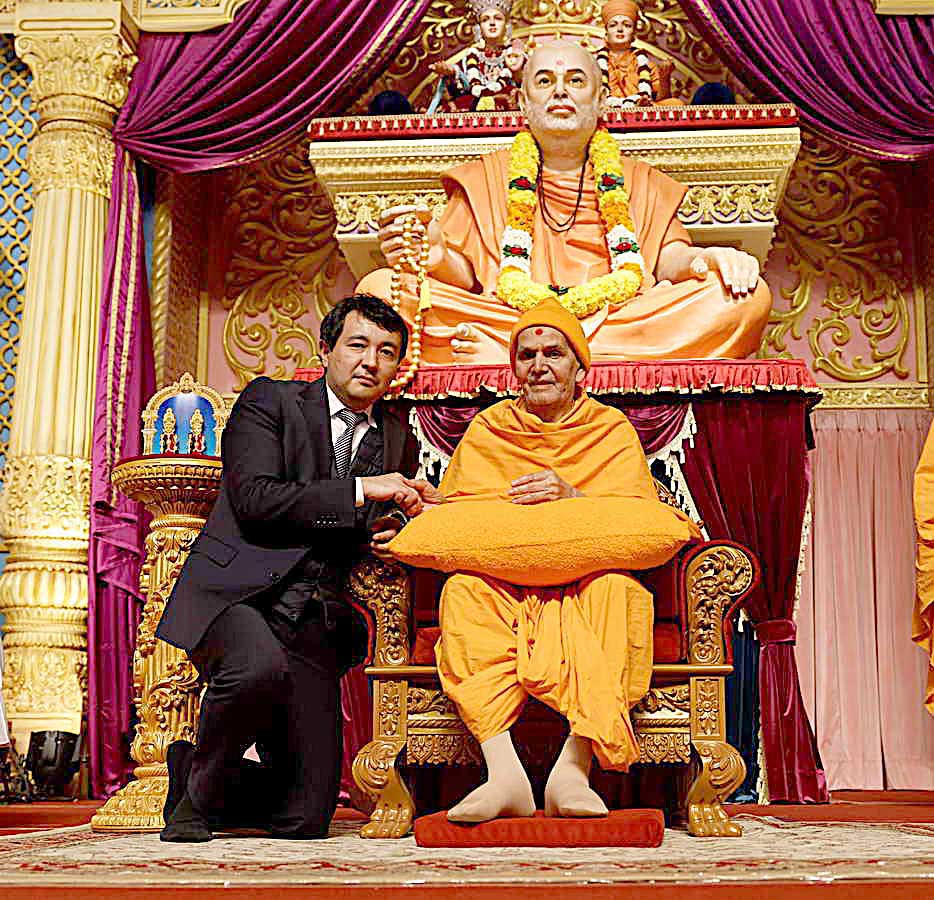 "Pramukhswami Maharaj Nagar conveys the message of peace and harmony throughout the world. The compassion and love of Pramukhswami Maharaj has touched the entire world."
Honorable Mr. Ganbold Dumbjav, Ambassador of Mongolia to India said,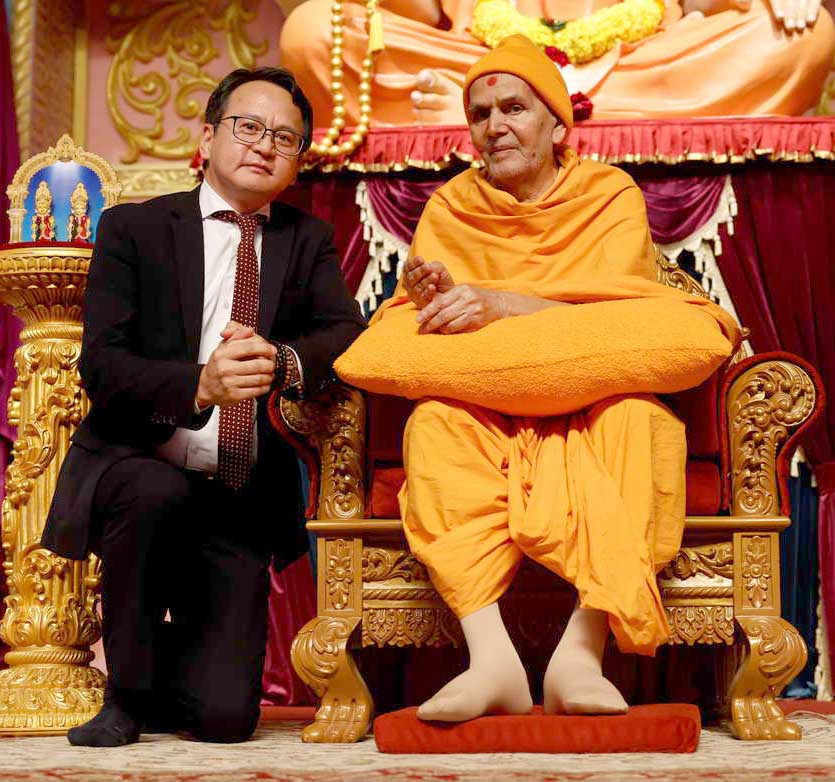 "Pramukhswami Maharaj Shatabdi Mohotsav to all of you with best wishes. Visited Delhi Akshardham in May 2019, Akshardham is very amazing. Mongolia and India are spiritual neighbors."
The Ambassador of Israel to India Mr. Honorable Naor Gilon said,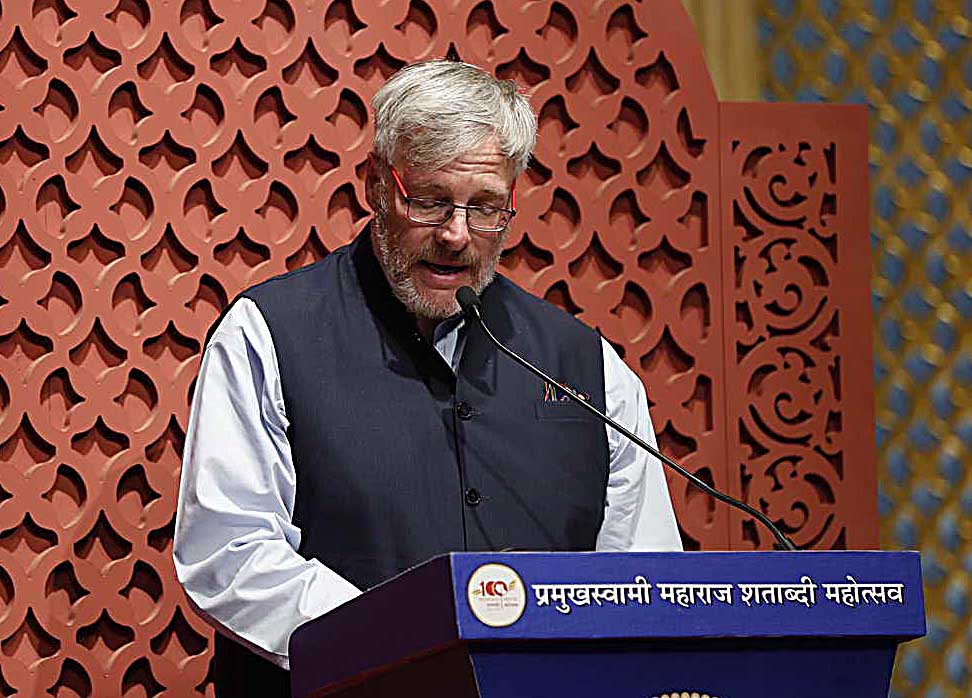 "Pramukhswami Maharaj has influenced people all over the world through his life and works. In 1999, Pramukhswami Maharaj sanctified the country of Israel and by showing respect to different religions, Pramukhswami Maharaj achieved harmony and dialogue between Hinduism and Judaism. "
The Honorable David Pyne, High Commissioner of New Zealand to India, said,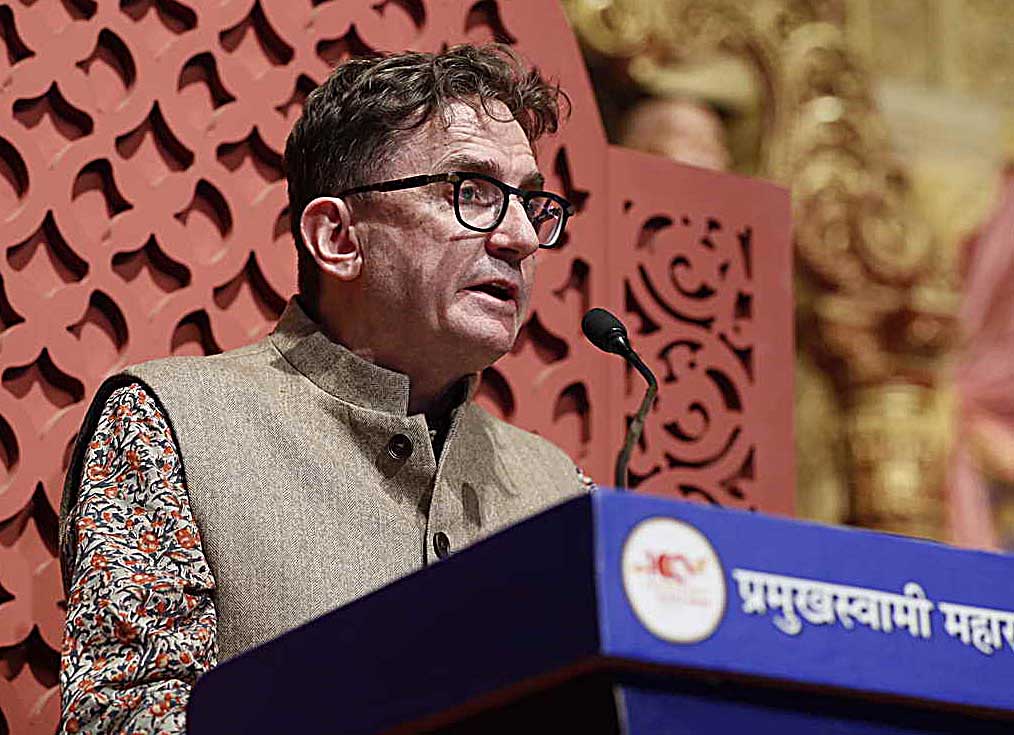 "I am very happy to come to this Pramukhswami Maharaj town. In 1996, Pramukhswami Maharaj visited our Parliament in New Zealand and consecrated our country. Today, Hinduism is the second largest religion in New Zealand. The dedication and service of the 80,000 volunteers of this organization is truly amazing."
Australian Government MP Honorable Jason Wood said,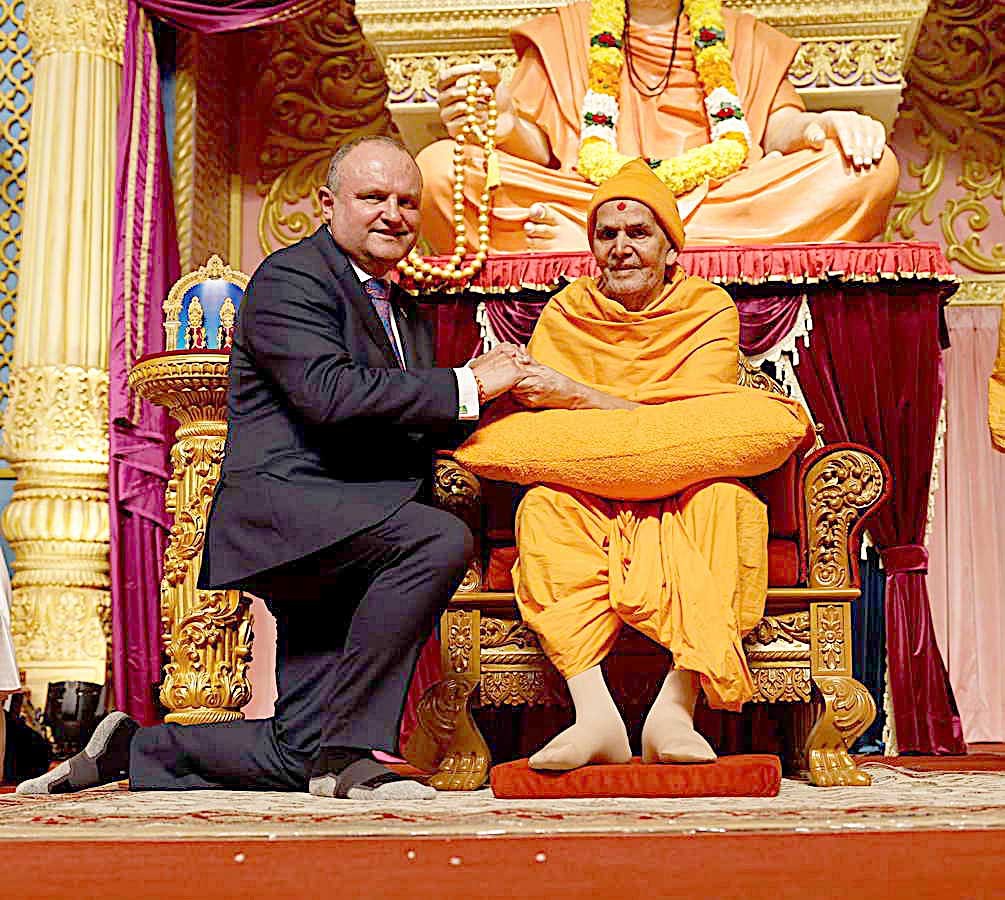 "It was my good fortune that I got to participate in the Pramuch Swami Maharaj Shatabdi Mohotsav and managed to come to India from Australia. Mahantaswami Maharaj's unwavering courage and leadership is truly amazing and today this organization is reaching every corner of the world.
and doing excellent works of social service and promoting and propagating Hindu culture and rites. Pramukhswami Maharaj has always lived with the spirit of 'our good in the good of others'. I am grateful to you for the commendable work done by the BAPS Swaminarayan Institute in Australia for the Indian students as well as the citizens of the country at the time of Corona."
The Honorable Craig Ondarchi of the State Government of Victoria (East), Australia said,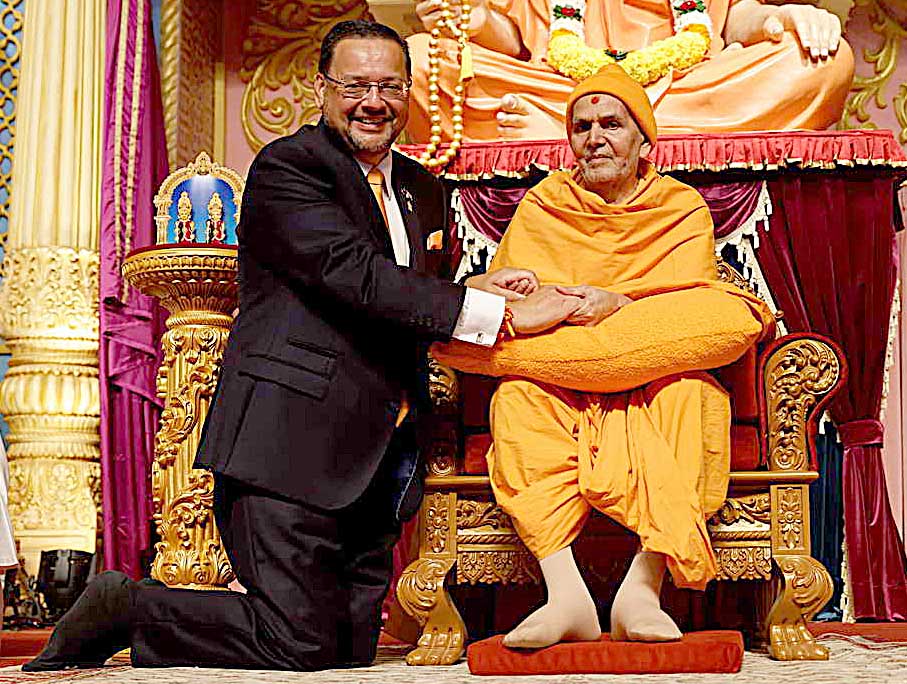 "Through the motto 'Our good in the good of others', Pramukhswami Maharaj has given an excellent lesson and inspiration to live for others. I am thankful to you that BAPS Swaminarayan Sanstha is doing various social works in Australia with the inspiration of Mahantaswami Maharaj.
I have a lot of love and respect for BAPS Swaminarayan Institute in my heart. Mahantaswami Maharaj blessed me by coming to my office and through that blessing I am able to do good social service today. 'Mahant Swami Maharaj! I will never forget the moment you came into my office and blessed me and please come back to Melbourne, our country needs you."
High Commissioner of Australia in India Hon. Barry O'Farrell AO stated, "It is a matter of good fortune for me that Pramukhswami Maharaj got to be present at the centenary celebrations. I am thankful to Pramukhswami Maharaj because this organization is truly doing social service work in our country."
Sri Lankan High Commissioner to India Hon'ble Shri Asoka Milinda Moragoda said, "Pramukhswami Maharaj was a very divine spiritual leader who gave the motto 'Our good in the good of others' and lived by that spirit. During the Tsunami this Swaminarayan Sanstha did very wonderful relief work."