Apollo announces expansion of its Genomics Institute
With the launch of the Apollo Genomics Institute in Chennai, Apollo continues to invest in genomics technology and research to better treat patients.
Apollo, the world's largest diversified healthcare facility provider, today announced the expansion of the Apollo Genomics Institute with the opening of its facility in Chennai. Apollo announces expansion of its Genomic Institute
Apollo has increased its investment in genomics after earlier launching genomics institutes in Mumbai and Delhi. By the end of 2023, Apollo aims to open three more genomics facilities in Hyderabad, Bangalore and Ahmedabad.
India has made a lot of progress in controlling infectious diseases in the last few years, but there has been an increase in many genetic diseases in recent years which have been neglected. With genomics these diseases can be identified before they spread and ultimately prevent their spread by providing early treatment. Apollo Genomics Institute's mission is to transform medical practice by bringing genomics services to every clinician and patient.
The Apollo Genomics Institute in Chennai will offer a wide range of services such as genetic evaluation, clinical diagnostics, obstetric genetics, cancer genomics, prenatal genetic screening, etc. As a result, better information will be available to patients and help to avoid genetic diseases.
Apollo Hospitals Group Executive Vice Chairperson Dr. Preetha Reddy said, "India is a vast and multifaceted country and as a result genomic medicine has transformative potential. A group of genetic diseases have emerged with a decline in infant mortality.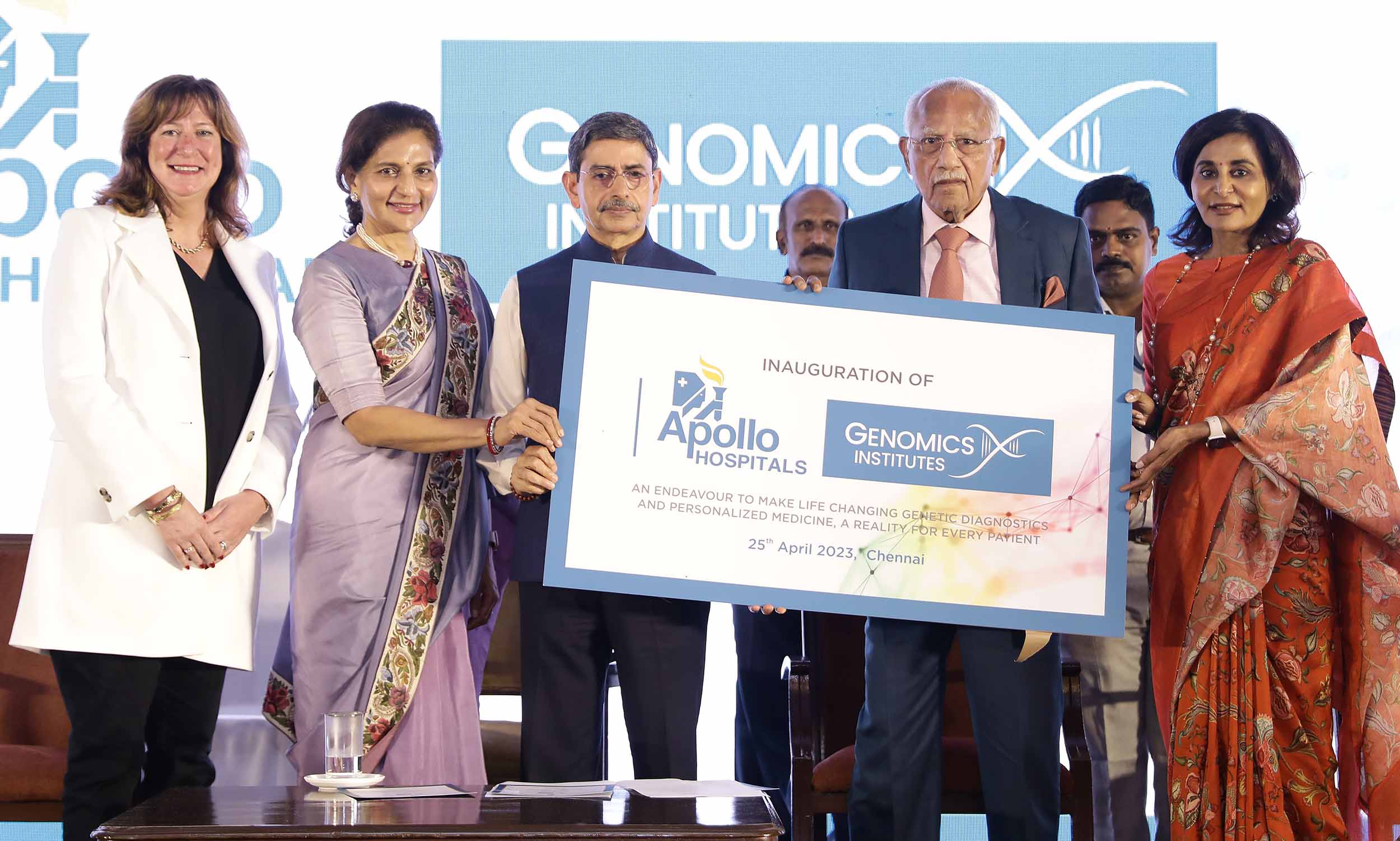 L to R : Prof. Sandi Deans, NHS Genomic Medicine UK, Ms. Preetha Reddy, Executive Vice Chairperson, Apollo Hospitals Group, Thiru. RN Ravi, Hon'ble Governor of Tamil Nadu, Dr Prathap C Reddy, Chairman, Apollo Hospitals Group, Ms, Suneeta Reddy, Managing Director, Apollo Hospitals Group
According to a 2021 report by the Ministry of Health and Family Welfare, about 7,000 to 8,000 diseases known as rare diseases worldwide occur in India. Today, as our people are more health conscious, people are getting genomic tests for disease prevention and testing for non-communicable diseases like diabetes, cancer and heart disease. The expansion of the Genomics Institute is an important step towards the prevention and management of non-communicable diseases, which have been a public health challenge in India and globally."
Ms. Sunita Reddy, MD, Apollo Hospitals Group said, "At Apollo, we believe that patients should be included in the decision-making process regarding their health. Availability of real data details with patient-oriented assessment allows for in-depth review of disease-genetics and appropriate diagnosis and treatment.
Genomics is one such field. As non-communicable diseases spread, more information is available at the patient level, giving doctors more accurate information about the patient. This will enable personalized medicine through genetic information as it will help in the diagnosis, treatment and prevention of diseases.
Our focus at Apollo Genomics Institute will be preventive care and personalized medicine, which is a testament to our commitment to a more immune and healthy society."
India is home to 20 percent of the world's total population and contributes only 0.2 percent to the global genetic database. The plan for the Apollo Genomic Network is to collect a comprehensive database and keep that data safe. Apollo's All Genomics Network is also actively involved in teaching and research activities.
AGI organizes weekly case discussions, peer-to-peer learning, monthly grand rounds and journal clubs and healthcare seminar series. Apollo is committed to making preventive health care a national priority when NCDs are one of the leading causes of pain and death, and account for 65 percent of deaths in India. The ultimate goal of Apollo Genomics Institute is to transform the future of healthcare in India by providing definitive and personalized healthcare.