Pune, Bajaj Allianz General Insurance, one of India's leading private general insurers, organized the first ever General Insurance Festival of India (GIFI) in Pune on 3rd July 2023, setting a record for the largest attendance for an insurance conference, officially a new Guinness World Record. made Bajaj Allianz General Insurance Sets GUINNESS WORLD RECORDS

title at the General Insurance Festival of India (GIFI)
A record 5235 attendees attended, contributing to making history in the insurance industry worldwide. This record breaking achievement was announced at GIFI's main event.
The company had previously announced the GIFI Awards, where they invited nominations from what are considered the top-ranked health and general insurance advisors across the insurance industry. Subsequently, the consultants submitted their nominations for the GIFI Awards
This resulted in an overwhelming response of over 2000 entries across five announced categories. Based on a rigorous assessment process conducted by an independent process reviewer and a third-party panel of judges, the company announced and honored the winners and runners-up for each category at the General Insurance Festival of India.
The event was graced by Mr. Sanjiv Bajaj, Chairman and Managing Director, Bajaj Finserv; Other distinguished industry representatives such as Charu Kaushal – CEO, Allianz Partners India; Matthew Stalgis APAC Regional Leader – Broker and Client Relations, International Health; Dr. Arokiyaswamy Velumani, Founder, Chairman and MD of Thyrocare Technologies Ltd.; Ganesh Mohan, CEO,
Bajaj Finserv Asset Management Ltd.; Vijendra Katiyar, Country Head Trend Micro India & SAARC; Vishal Gondal- Influencer, Founder and CEO at GOQii; Nisha Narayanan – COO and Director, RED FM and Magic FM; Steve Watkins CEO Greater South East Asia; Lt Gen Satish Dua – PVSM, UYSM, SM, VSM; And Devang Modi, CEO – Bajaj Finserv Health and others were present.
Below were the winners and runners-up of the GIFI Awards for each category.
India's Best Health Insurance Consultant – Winner Mr. Mayank Chander Kothari from Ahmedabad; Runner-up Mr. Shakeel Ahmed from Mumbai
Best Motor Insurance Consultant in India- Winner Mr. Shiv Kumar Gupta from Varanasi; Runner-up Shri Gaurav Sharma from Delhi
Best Property Insurance Consultant in India – Winner from Bengaluru Ms. Priyadarshini Seshadri; Runner up Mr. Bipinkumar Patel from Mehsana
Best Multiline Insurance Advisor in India – Winner Mr. Prashant Shah from Mumbai; Delhi's runner-up Ms. Charu Bharati
Best Women Insurance Consultant in India – Winner from Mumbai Ms. Preeti Sameer Shah; Delhi's runner-up Ms. Karisma Chhabra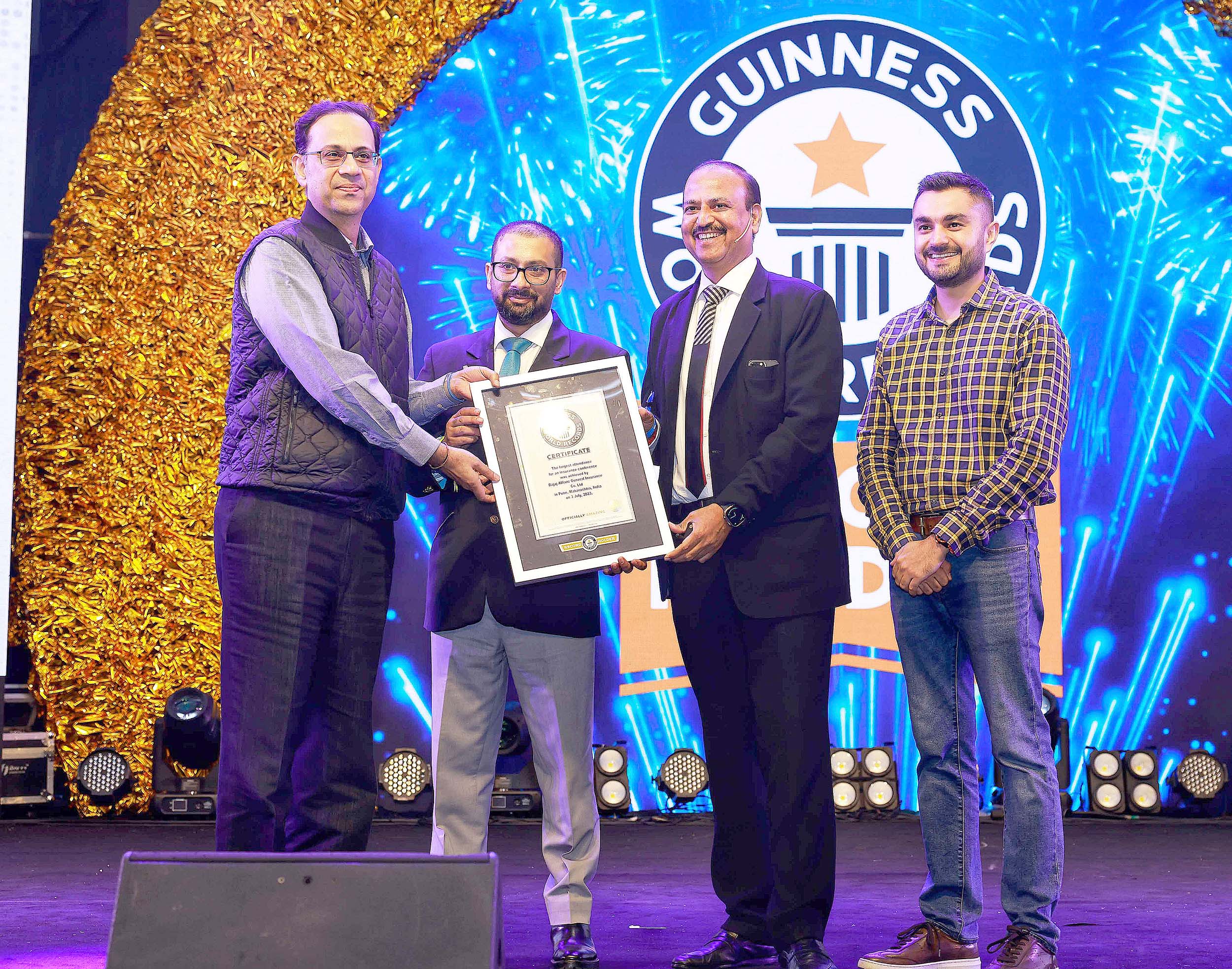 Speaking on the occasion, Mr. Tapan Singhal, MD & CEO, Bajaj Allianz General Insurance said, "Insurance has a very positive impact on society but does not get the recognition it deserves. Forums open the door to come together for discussion and we felt that a forum like GIFI could reflect on important topics such as what more the industry can do to take insurance to the masses, bring more people under insurance cover and what is happening in the insurance sector. will provide a platform to do This is new in insurance sector.
With this in mind, we took the initiative and launched GIFI. Here industry experts come together and talk extensively about insurance products, services and a range of topics. We are happy that with GIFI, we set a new Guinness World Record for the largest attendance for an insurance conference. BAGIC is setting benchmarks not only in India but across the globe and we will continue this journey of introducing industry-first initiatives that transform society. .
GIFI began with the idea of ​​creating a platform that would bring together the best in the general insurance industry and celebrate the industry's contribution to the well-being of society. The inaugural edition of GIFI was a resounding success;
Right from the start, GIFI received an overwhelming response. The energy and enthusiasm of the speakers, performers, audience and winners was outstanding. We are sure that this is just the beginning;
GIFI will get bigger with time. Let us come together as an industry to continue adding value to people's lives and make a lasting impact on society and our country.
The consultants, guests and other attendees were treated to an unforgettable experience organized for the festival, which included a spectacular performance by comedian Sunil Grover and energy-filled music by renowned composer Pritam among other spectacular performances. The event had various attractions such as an automobile zone featuring manufacturers such as Porsche, McLaren Automotive and Lamborghini.
The GIFI event proved to be a success that provided a platform for advisors to be recognized for their contribution to the insurance industry. The company is dedicated to not only providing exceptional services to its clients but also contributing to the growth and development of the general insurance industry.