DCM Shriram Foundation launched a new social initiative in Jagdia block of Bharuch
To improve healthcare research, empower communities and transform their lives, DCM Shriram Foundation has launched a new and unique initiative Mobile Medical Unit for new mothers and babies in 122 villages of Zagdia block of Bharuch district.
Bharuch, DCM Shriram Limited through its charity unit DCM Shriram Foundation has launched a social, health and wellness initiative "Mobile Medical Unit' (MMU) to focus on maternal and child health in association with Health Department, Bharuch in Zagdia block of Bharuch district. This will provide facility to people of 122 villages. The implementing partner of this program is BharatCares (SMEC Trust).
Equipped with modern facilities, the MMU will provide preventive, health promotion, diagnostic and referral based services, thereby improving the health of both mother and newborn by reducing the number of high-risk pregnancies.
The main objective of this initiative is to ensure primary medical care to pregnant women and lactating women in remote and inaccessible areas. It aims to establish a comprehensive medical care system, covering the community and remote areas, secondary and territory care, to fill the gaps in health services.
Chief District Health Officer Dr. JS Dulera and BM Patel, President and Unit Head of DCM Shriram Limited, Zagdia, jointly inaugurated a mobile medical unit constructed in collaboration with DCM Shriram Foundation at Phulwadi Community Hall, Zagdia, Bharuch on Wednesday, July 5.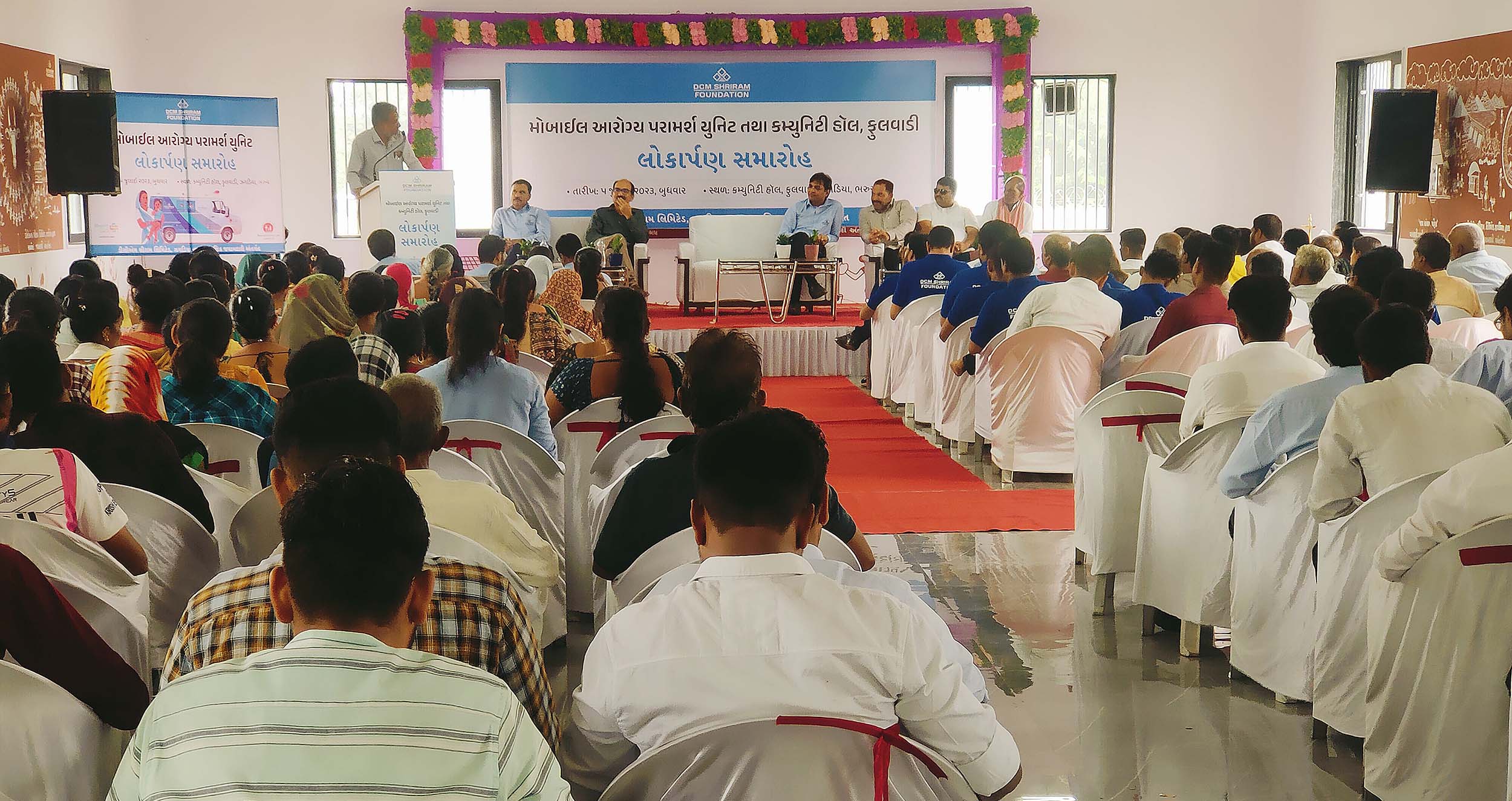 Commenting on this initiative, Taluka Health Officer of Zagdia Dr. CJ Mehta said, "We are thankful to DCM Shriram Foundation and Bharatcares for joining hands to start Mobile Medical Unit in Zagdia Block.
Through this partnership we will be able to reach out to the fringes and ensure that we can provide basic health services to those who need them at their doorsteps. We look forward to supporting the team and working together to make a positive difference in the lives of millions."
The chief guest on this occasion was Dr. The Community Hall was inaugurated by DCM Shriram Foundation in the presence of JS Dulera, CDHO Bharuch, special guest BM Patel, Ramubhai Vasava, Sarpanch, Phulwadi village, Vitthalbhai, Sarpanch, Talodara village, Narendra Patel, social worker, Phulwadi, public representatives and villagers. Villagers can organize village level events, weddings, ceremonies or meetings in this hall.
DCM Shriram Foundation works towards holistic development through various initiatives in Healthcare, Sanitation, Education, Livelihood and Rural Development. The mobile medical unit will play an important role in shaping the future community system, but will cater to the needs of pregnant and lactating women who find it difficult to access essential medical services.