NSE IX unveils new identity for Gift Nifty – ushering in a new era of transformation in the Indian financial sector
The NSE International Exchange (NSE IX) today unveiled the new brand identity of Gift Nifty as part of a complete transition from SGX Nifty to Gift Nifty from July 3, 2023. NSE International Exchange unveils a New Identity for Gift Nifty
Gift Nifty's new identity, another opportunity and access to Nifty products through NSE IX at the new Gift City will provide a new direction for international investors to participate in India's growth story. Gift Nifty's new look is aligned with the flagship index NIFTY 50, which represents the growth story of Indian equity markets.
The unveiling of the new logo follows the recent announcement of full-scale operations of the NSE IX-SGX Connect to commence from July 3, 2023. This strategic initiative between NSE IX and SGX enables gift Nifty orders of SGX members to be routed through SGX Derivatives Clearing to NSE IFSC for clearing and settlement, trading and execution.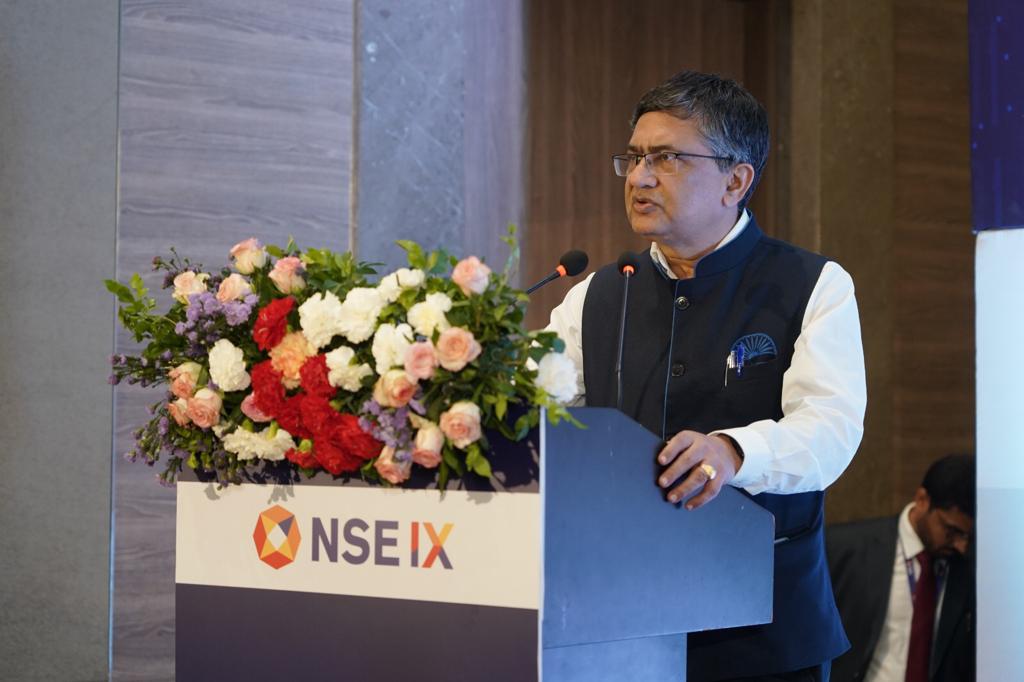 Initially market participants can access Gift Nifty 50, Gift Nifty Bank, Gift Nifty Financial Services and Gift Nifty IT derivative contracts on NSE IX and gradually other indices will be rolled out under the Gift Nifty suite.
The contract can be accessed for approximately 21 hours, overlapping Asia, Europe and US trading hours. Gift Nifty offers a single pool of liquidity and venue to access Nifty derivatives denominated in US dollars at NSE IX under the regulatory framework of the International Financial Services Center Authority (IFSCA).
In addition, NSE IX also unveiled its new corporate brand identity, developing IX exclusively designed with NSE to reflect NSE International Exchange's ambition and vision to be a leader in the global capital markets space.
Commenting on the occasion, IFSC Chairperson Mr. Injeti Srinivas said, "IFSC aims to develop IFSC as a global gateway for inbound and outbound needs of international financial services. Given the growing influence of international investors in India's growth story, Gift Nifty plays a catalytic role in accessing a broader representation of Indian equities. The gift to NSE IX completes the unveiling of Nifty's brand identity and corporate identity."
Mr. Ashish Kumar Chauhan, MD & CEO, NSE said, "The new identity of GIFT Nifty presents a unique opportunity and new direction for international investors to participate in India's growth story by accessing Nifty products through the NSE International Exchange at GIFT City.
This brings us one step closer to full-scale transition from SGX Nifty to Gift Nifty from July 3, 2023. Gift Nifty will be a catalyst in achieving the Hon'ble Prime Minister's vision for Gift City to become the price setter for the world's largest traded instruments."
MD & CEO of NSE IX Shri V. Balasubramaniam said, "Through Gift Nifty, global investors can trade Nifty derivatives in US dollars from a single location. This is an important achievement to initiate the transformation of the financial landscape of Gift City and make it a truly global IFSC.
NSE IX also unveiled its new corporate brand identity that reflects the ambition and foresight of NSE International Exchange to be a leader in the global capital markets sector."